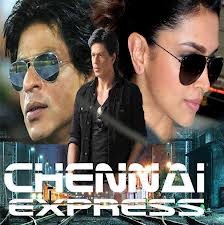 Rohit Shetty's "Chennai Express" is slated to be release this Friday, an auspicious day as it is Eid, and the country will be celebrating the festival and the film. The "Chennai Express" team has many feathers to its cap the latest being it has the biggest release in UK; no other Indian Film has matched this. 125 cinemas and 170 screens are the figures that have come out regarding the release of the film in UK. As a part of the promotion for the film the team was in London and they received a huge support. The film is set in South India and is a complete entertainer. Shahrukh Khan expressed his appreciation for the support he got from the UK audience and was sure the film would do well.
The train also stopped at our desi station Punjab for the promotion. Here Shahrukh had to say that along with the people he loved their food. It was so rich and he would put on weight whenever he visited Punjab. The film's promotion was held at Jalandhar and Deepika Padukone, his pair in the film was also present. Both acknowledged the carefree nature of the Punjabis and the unparallel hospitality of the state.
The New Look Of Sunny
Sunny Leone has now some meaty roles after a sensuous entry. "Tina and Lolo" a thriller by Devang Dholakia has given Sunny a new look to break the mould that was slowly setting. Though there are controversies about her career, past and future, she has signed a few films and hopes she will be accepted soon by all. Sunny and her husband have moved to Mumbai as she now her aspirations rooted in Bollywood. Jism 2 brought out the erotic Sunny and Big Boss 5, the reality show, gave us a glimpse into Sunny the person. Other than Tina and Lolo there are two projects lined up – Jackpot and Ragini MMS2. This Indo-Canadian beauty says that her makeover to Bollywood was effortless and one sincerely hopes the audience also accepts her effortlessly after seeing her forthcoming projects.