The top 5 baby products I couldn't live without
I really wanted to write a quick review on the top 5 baby products that I currently own. Seeing as my son was born just over a week ago, I was hoping to provide some basic advice. Now I must say thanks to some of these products some of my greatest fears have been laid to rest. The bottle steriliser that only requires 90ml of water and 4 minutes in the microwave and the baby monitor that displays the baby's body temperature, and heart rate. Here are just a few amazing pieces of baby kit that I think all parents should consider investing in.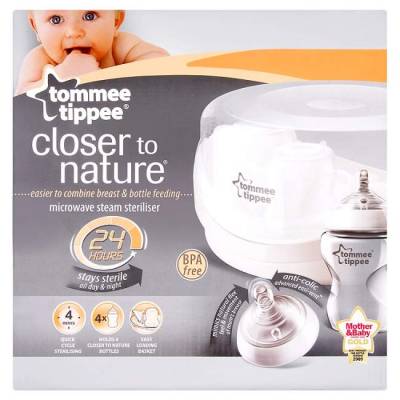 Ok, so here is one of the most convenient pieces of baby kit that I own. The Tommy Tippee bottles and steriliser is ideal for those who don't have a great deal of time on their hands. Once all the bottles are clean, you simply pour 90ml of water into the main body, place the lid back on and insert into your microwave for 4 minutes. You should allow an extra minute to allow the steam to escape from the vents which are located in the centre of the lid, before extracting one of the bottles. The inside of the steriliser includes the base and a removable tray which house's four bottle shaped grooves to place the bottles and a further four stantions with grooves for fitting either dummies or the teets. All in all this is a very good product that I rate 10/10. The bottles are durable, and it's all very easy to clean and to use. I recommend to all.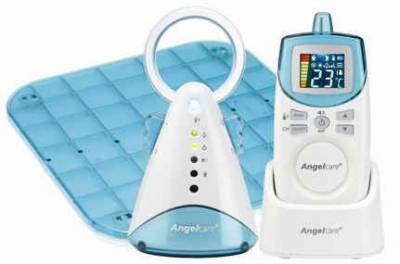 Now this is simply an amazing piece of kit, one of my very good friends bought this as a baby present for me. This is the Angel Care Sound and movement monitor, which also tells you your baby's heart rate and body temperature. It has the ability to monitor the sound made by your infant and will alarm if it picks up any irregularities. The pad itself should be placed underneath the Childs sheets and mattress on a hard rigid surface. The pad is attached to the nursery unit which the odd looking triangular shaped gadget pictured above. It is here you can set the sensitivity of the pad and the transmission of sound is received. Now, in my bedroom we have the pad and the nursery unit placed at the bottom of the bed and the receiver unit placed at the head. The receiver unit displays temperature, heart rate and volume; this is also where the alarm, should anything go wrong goes off.
There are numerous options and controls that come with owning the Angel care baby monitor. You can control the volumes for both the alarm and the noise receiver. You can control the sensitivity of the pad, that your baby actually lays on and you can set when the alarm actually goes off. For instance, should your bedrooms temperature exceed or fall beneath a certain number, you can set it so that it alarms when this happens. The pad also alarms when no movement is detected, as all babies move constantly all night.
Considering the peace of mind you obtain with the Angel Care Baby monitor, the price is just as amazing, retailing around £60 from Amazon you simply cannot go wrong. The postage and packaging were first class as always from Amazon, and everything is in perfect working condition. 10/10 from me, I recommend to all.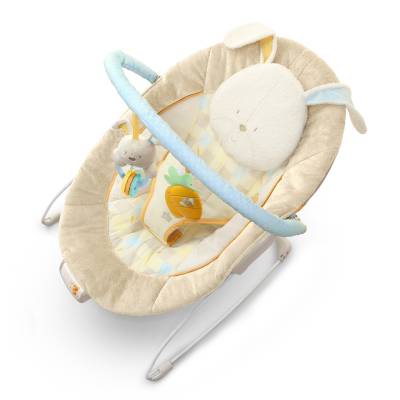 This is the Bright Start's baby bouncer. A high quality item, which does in fact suit newborns as well as 0 - 3 months. This bouncer comes with a bunny rabbit design; a seat belt for safety, an option to play nursery rhyme music and an option for vibrate. The bouncer also comes with a padded bar that hangs some rubber rings and two plastic carrots for your child's amusement. All in all a very safe, comfortable product, that I would suggest all parents to possibly invest in. It is very easy to use, and your baby will probably think that the bouncer is more comfy than their own crib or buggy.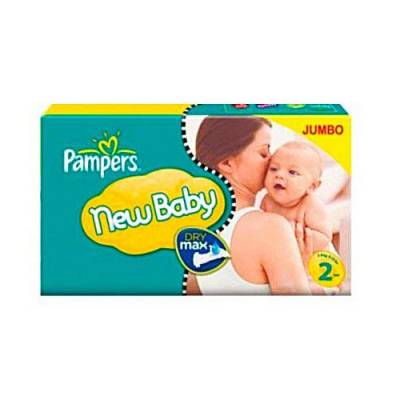 Even though, this isn't a great gadget that is super friendly to the environment or makes sure that your baby is healthy, this is got to be the main product that I just couldn't do without. Pampers newborn nappies that do exactly what they say on the tin. They absorb liquid, and they are very easy to place on your baby and take off again. These nappies are great value for money and easy to dispose of, once soiled. I absolutely recommend this product to all budding parents who are looking for quality and a great deal.
Note to parents: Although this is an amazing product, once removed it cannot protect you from your child urinating in your face. Just a word a warning there!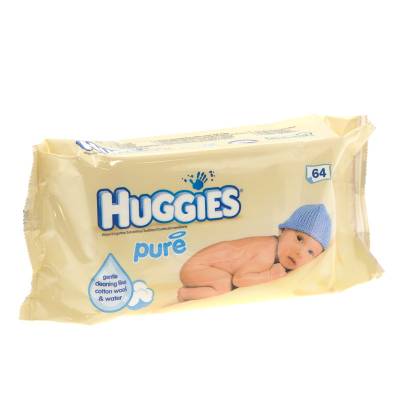 These walk hand in hand with nappies. They smell good, and they don't tear the second you use them, which is just as well really! They usually come in quite large packs, of high quality wipes. The Huggies wipes tend to be a lot more forgiving on your child's bottom than other cheaper makes and brands.
All in all, the five products I have listed here today, I just simply could not live without. They are all high quality products, that are not only useful but i think they look good. It speaks volumes about the parent that invests in the best baby products that money can buy. Also, just bear in mind that the items I have talked about are cost effective and do retail at cheap rates. I could have listed a few more items here today, but I feel that any parents looking to put together a list of products to purchase prior, or even after their little bundle of joy is born should place these as the high priority kit required first.
10/10 for all the above listed items.