Infantastic is a German online store that specialises in, well you guessed it, products for infants. I recently purchased a travel cot via Amazon, and I must say, I am well and truly impressed. Although it has no formal name, the travel cot from which I bought from this company is simply a fantastic and very practical product. I have been informed that the NHS doesn't endorse the use of the travel cot as permanent bedding for an infant, however I beg to differ and I really want to emphasize the practicality, the value for money and quality of this particular product.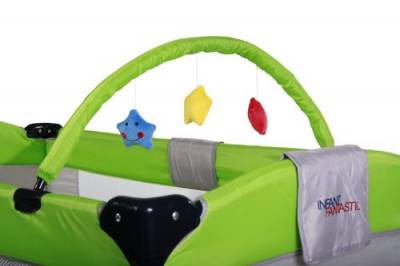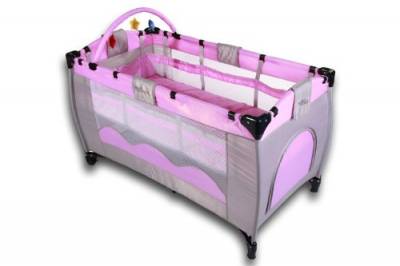 I am led to believe that the health services advise against the use of the travel cot on a daily basis purely for the supposed facts that it doesn't do your Childs back any good. The removable mattress provided with this particular product is very sturdy and although has "trenches" every few inches generally feels comfy. Even if this puts you off there is a solution to the issue, simply place a thick quilt over the top of the mattress so your infant can't feel the trenches.
There are a number of great inovations currently in the travel cot arena. We look at a few videos and give our travel cot review for you.
Visit our best travel cots article now.
Infantastic Travel Cots on Amazon
Ok, let's get to the product itself. The travel cot that I now have in my possession arrived after four working days from Germany via a private delivery company. Once signed for I eagerly opened up the packaging and pulled out the already packed cot. The cot itself can be folded down, placed into a grey nylon carrier bag and transported around with great ease. I then proceeded to open the zipped up carrier bag and began assembling the item. The main body of the cot was incredibly simple to erect, and acts much like an umbrella once a little bit of weight in pressed into the centre of the body. The outer wall locks into place just by giving a sharp tug, pulling upwards and there you have it the travel cot is pretty much there.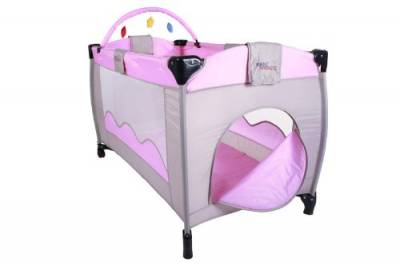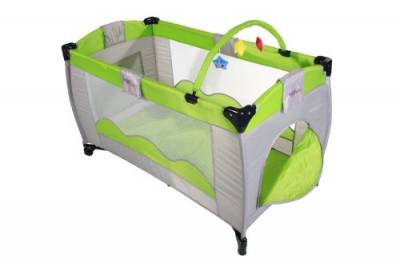 On one side the cot has static legs that are sturdy and mirroring on the other side there are two lockable wheels, much like a push chair has. I would imagine this is there to lift up and push the very light bed around whatever room you happen to have your cot based in. Just above the static legs you have a semi circle, zip door which I believe is a fun way for your toddler to climb into bed at night. The other side has a very convenient elastic storage pouch from which you may place anything you desire, although the attachable changing mat is supposed to go at this end of the cot so I would imagine it's for nappies, wipes etc...
Other Travel Cots
Infantastic have added some very handy attachments to this brilliantly put together product. These include the attachable/ detachable changing mat, which your baby will sink into and is strengthened by four metal bars all round, probably to stop your infant from falling off. There is also an attachable hammock like attachment which is ideal for those of us who have bad backs and can't lean all the way into the bed; according to the manufacturer the inlay has two settings for medium height. The hammock inlay is also strengthened by metal bars which are forced into place by tucking them into the slots provided. Another great add on is the mobile which can be removed and put back on at your own leisure and also can be manipulated to either lean into or lean out of the cot.
Practicality is the cots greatest strength, being very easy to erect and fold back down. Although the instructions come in German, there are colour illustrations which are simple enough to work from. The material is a washable nylon, and the sides have a sewn safety net so you can keep an eye on your little one.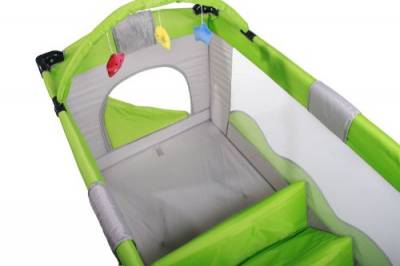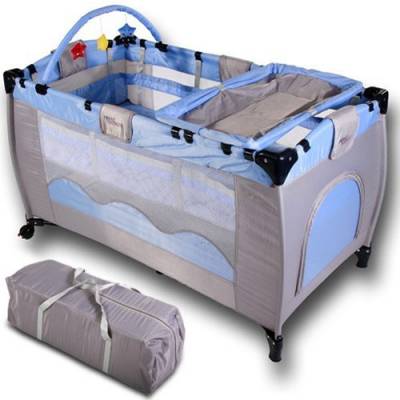 Summary
The value for money is exceptional; RRP from Amazon was around £45 (at time of publish) and with P & P costs on top was around £52, so why buy a wooden cot for hundreds of pounds when you can spend less than a £100 on a practical travel cot that your child will probably love. This product comes in three different colours, Blue, green and pink. Infanstic also sell extra mattress attachments for a little bit of peace of mind if you're not comfortable with placing a thick quilt over the provided mattress.
Overall the travel cot from Infantastic is a fabulous product, it's practical, cheap and the workmanship is outstanding. Its only downside is that they don't make them for adults, which really isn't a negative, it's just because I'm a childish adult, and the ages are from 0-36 months so you will get your monies worth when purchasing the travel cot.