Ranbir Kapoor the 30 year old Bollywood actor says that his heart beats only for the beautiful actress and dancing diva, Madhuri Dixit. In his upcoming film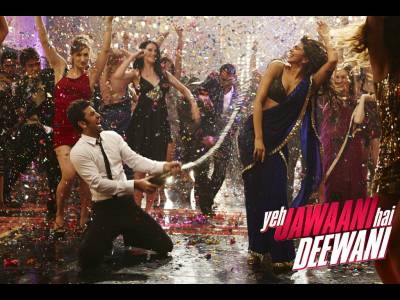 'Yeh Jaawani Hai Deewani' he has done a special song with the Bollywood actress. Very often, Ranbir has been linked with a number of his co-stars who he says are just friends. He says that people just keep talking about him and link him with his co-stars as he works with them.
According to him, his heart beats for just one woman and that is Madhuri Dixit. He calls her his 'Dream Girl' and that once she appears on the screen it is as it light seems to spread in all directions he adds. Right from his childhood, he had a dream of dancing with her and this dream was fulfilled through the upcoming film 'Yeh Jaawani Hai Deewani'. This he states during the promotion of this film. He does an item song called 'Ghagra' with Madhuri in the film and feels extremely lucky to be working with her. On May 31st, the film is expected to hit the theatres.
In fact he has made a revelation that it was he who had made a suggestion to Ayan Mukerjee, the director to add a kissing scene with Madhuri Dixit at the end of the song. He says that in life whether or not he would get a similar chance or not, he does not know. Four retakes had to be taken for this song and he assures that these were not taken intentionally. Ranbir played the role of a mute and deaf boy in the film 'Barfi' and attained maximum fame for it. He states that he would not like to play a similar role like the role he played in the film made by Anurag Basu, again as now he is interested in new characters. Period, suspense, thriller and action films are what he is looking towards now, Ranbir says. He states that his father Rishi Kapoor is a fine actor and he is a big fan of his father. However, he wouldn't want to repeat any of the character's played by his father as he wouldn't be able to do complete justice to those characters like his father.
Deepika Padukone Finds Compliments Very Embarrassing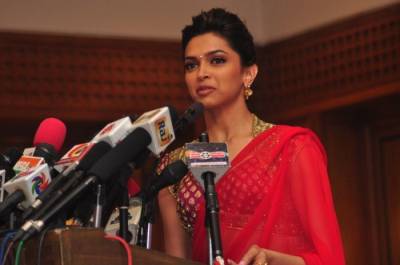 Deepika Padukone, the beautiful Bollywood actress who has been in the Bollywood industry since 2006 recently she has topped the Times 50 Most Desirable Woman of 2012 list and has been receiving loads of compliments for this. As far as fielding compliments are concerned, she feels very embarrassed, she states. According to her physical attributes and beauty are all artificial and superficial. She states that she does not know how to react upon getting compliments and does not know how to take them, actually. This 27 year old actress says that compliments must be only a good thing, that's it. Instead of appreciating her looks, she wants people to appreciate her personality and acting skills. She has worked in a number of popular films like 'Housefull', 'Love Aaj Kal' and 'Om Shanti Om'. They should find her desirable for who she is which they can get to know through her interactions and interviews. She states that the audience should find her desirable for who she actually is, and should not bother with her physical attributes and beauty. She is going to feature next in films like 'Chennai Express' by Rohit Shetty and 'Yeh Jawaani Hai Deewani' by Ayan Mukerji.