Making the right first impression is crucial when meeting a potential employer for an interview for the first time. If you are trying to bag your dream job, it is important that you prepare yourself for the upcoming occasion so you know exactly how to approach the situation. To give yourself the best possible chance at getting the job you have always wanted, you must make sure you carry yourself correctly, have a positive attitude and are friendly and approachable.
First impressions are everything and even though we try not to, we usually judge people on their appearance before they have even spoken. Here we have put together a guide on how to dress for an interview that is sure to help you shine above the other applicants.
Outfit
When it comes to choosing the perfect interview outfit, make sure it is appropriate. You want your style to be preserved and professional so think low heeled or flat shoes and a midi length skirt or dress. Avoid wearing bright shades and opt for some more neutral such as beige, cream or navy. Blouses and pencil skirts are a great failsafe combination that will work for any type of interview.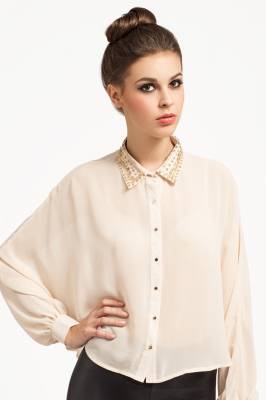 Hair
Make sure your hair is clean and well cut before your interview. To prevent distraction and fidgeting, ensure your hair is not blocking your eye contact with your interviewer. Choose a no-fuss hairdo such as a ponytail or simple updo that will help you to convey a professional image. You don't want your potential employer to be distracted by your hair so it's best to keep it simple so they can get to know your personality and see why you are fit for the job.
Make-up
Like your hair, make-up should always be kept simple for an interview. You want to achieve a natural look of barely-there make-up so keep the foundation to a minimum and avoid false tan to prevent looking tangoed. If you want to add some colour to your lips, opt for lipstick instead of gloss as it looks more professional. Add a small amount of eyeliner and mascara to give your eyes a little boost and a dash of blusher to your cheeks to give your skin a healthy glow.
Find a range of fashion tops suitable for interviews at Little Mistress.