Sami Brown - Fashion & Lifestyle Blog
2 minutes reading time
(306 words)
How to Build Confidence in the Pool | Learn Kids To Swim
With the summer season just around the corner, many of you will be starting to plan your summer holidays away with your family. With six long weeks to keep your children entertained whilst the school doors close for the summer holidays, the perfect way to spend it is to go on a trip with your beloved family. Whether you decide to stay in England at a holiday park or travel abroad for some warm summer sun, you can travel whatever your budget.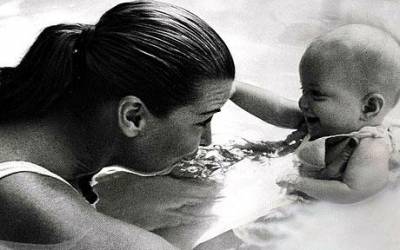 Image Source - http://www.telegraph.co.uk/health/wellbeing/7973491/How-to-swim.html
Summer is often associated with swimming as you can go paddling in your local lake, take a dip in the sea or splash around in your hotels outdoor swimming pool. Of course, if you plan on making use swimming facilities either at home or abroad, you must make sure that your children can swim confidently in the water to ensure they can have fun and stay safe during the holidays.
There are plenty of great ways to get your children confident in water. For example, using inflatables such as armbands and rubber rings are an ideal way to allow your children to enjoy the water whilst making sure they are safe from drowning. This way, your children will be able to get confident in the water before removing the inflatables.
Once your children are old enough, you can start teaching them how to swim on their own. It is recommended to use a professional instructor to teach your children which can be arranged at your local leisure centre. When your child grasps the art of swimming, they will be able to partake in various other water based activities both at home and on holiday which will help to increase their health and fitness whilst having fun.
Find a range of swimming lessons and activities with a local internet search.
Related Posts
Comments
No comments made yet. Be the first to submit a comment
By accepting you will be accessing a service provided by a third-party external to https://style-review.com/