4 minutes reading time
(819 words)
Chasing Irrawaddy Dolphins in the Mekong River at Kratie, Cambodia
By Andrew Kolasinski
Our boat had motored out two kilometers from the dock. Now, in the intense mid-day sun we drifted through a cluster of grassy sand islands mid-stream in the Mekong.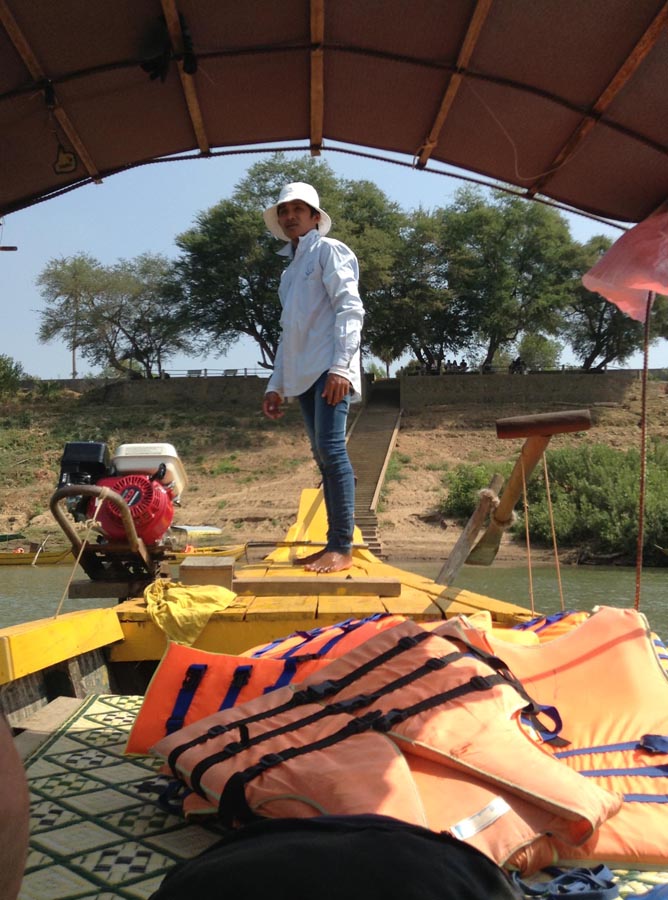 The day began in Kratie, on the east bank of the Mekong, 350 kilometers from Phnom Penh. The previous day I rode the bus ride for almost seven hours through pepper farms and rubber plantations.
Kratie, a city of 13,000 has dozens of hotels and guesthouses, all offering tours to see the dolphins.
Kampi, fifteen kilometers north of Kratie, is the port for the dolphin viewing fleet. This riverside village is near the dolphin's feeding grounds. A dozen twenty-foot wooden, double enders are powered by long-shaft engines. Luckily they have awnings to protect against the doubly bright, river glaring sun.
Our young Khmer skipper said there are 20 dolphins, but the pod is healthy and they are now protected by law. They are found in other parts of the Mekong River with a neighboring pod of 35-50 dolphins living among the 4,000 Islands of southern Laos.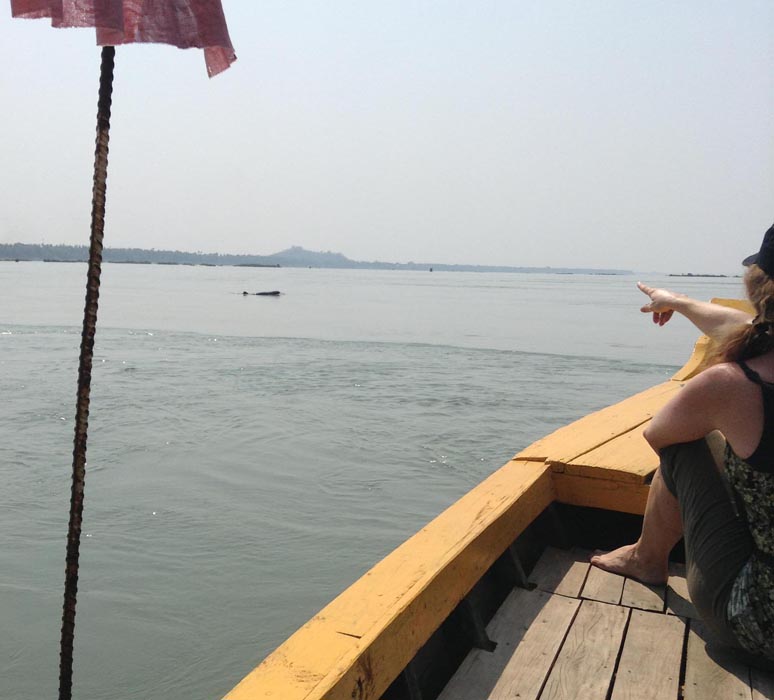 Fifty years ago there were thousands of them in Cambodia. During the reign of the Khmer Rouge, many were killed for food and for their fat to use as fuel. They also fell victim to incidental death by entangling in fishing nets and lines, and died out due to pollution and loss of habitat.
These freshwater dolphins are found in large river systems throughout Asia, from Vietnam to Pakistan as well as New Guinea and Australia. They can live in brackish estuaries and sometimes swim out to sea. Mekong Dolphins are called Irrawaddy Dolphins (Occelo brevirostrail), after the river in Burma where they were first observed by Western naturalists.
The Irrawaddy Dolphin grows to about 3 meters and can weigh over 130 kilograms. Their lifespan is 20 to 30 years, and they live in pods of extended family. They're believed to interbreed with neighboring pods up and downstream. Unlike their salt water cousins the river dolphins have rounded faces rather than bottle shaped snouts.
The ancient Khmer revered the river dolphins and believed they were half human and half fish. Even today some fishermen claim the dolphins help them by corralling schools of fish into their nets. Their intelligence is well established. In the past they were captured and trained to perform tricks in marine shows.
The dolphins navigate by sonar and can stay underwater up to 15 minutes. They feed on small fish and migrate up and down the river, staying in the deepest pockets of Tonie Sap Lake during the driest months.
Catching sight of them on this stretch of the Mekong is almost a sure thing. They feed every morning until 11 a.m. and again from 3 to 5 p.m.
As the sound of the engine dies off, replaced by the gurgling noise of the lazy current against the boat's hull, I'm hopeful the dolphins will stick to their schedule and give me a look at these elusive creatures. I have learned from past wildlife outings and whale watching trips that it is very difficult to get a good photograph of marine mammals. They inhabit another realm. A predator's fast eye and a super fast camera are required. I don't have either.
My fellow dolphin watchers on board are Anna and Peter from Zurich. Peter shows me his impressive camera. It is a top-of-the-line, high speed digital Nikon, worth thousands of dollars.
We all watch the water's surface expectantly. Within a couple of minutes our skipper points excitedly. A hundred meters off our bow a dorsal fin breaks the surface. Soon we are all spotting fins and occasionally we see them coming up for air in characteristic porpoise fashion, their bodies arching almost clear of the water. Watching their graceful movements is delightful even at these distances.
Anna tells me that the night before she had a vivid dream about a snub nosed dolphin swimming into her bath tub and looking into her eyes. Suddenly she stops her account and points. Ten meters from the boat a dolphin has surfaced and is regarding us through curious, sentient eyes before he submerges back into the brown waters of the Mekong.
I look questioningly at Peter with his ten thousand dollar camera. He shakes his head sadly. No, he missed the shot. Our close encounter with river dolphins will have to remain a beautiful memory, and the realization of a dream.
Born in The Hague, Andrew Kolasinski arrived in Canada as a small child riding in the luggage rack of a DC-7. Since then he has felt at home anywhere. As the publisher and editor of Island Angler, Andrew spends half the year fishing for salmon and trout, and in the off-season he travels the world looking for a story. This article was written on behalf of Tucan Travel, providers of tours to Cambodia and throughout Southeast Asia.
Related Posts
Comments
No comments made yet. Be the first to submit a comment
By accepting you will be accessing a service provided by a third-party external to https://style-review.com/