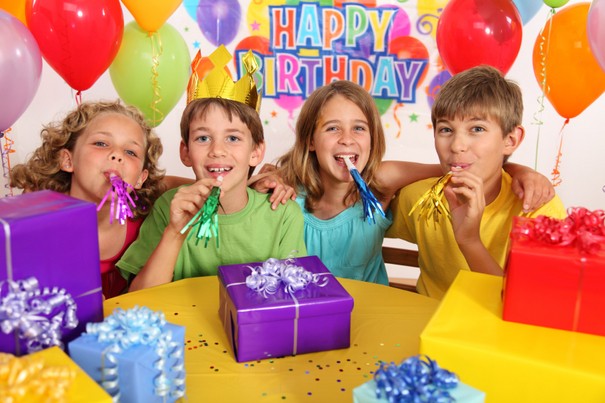 Are you trying to come up with some great kids party themes for summer birthdays? If so, it's worth thinking about how you can make the most of the outdoors through your garden, parks and beaches, while also considering different venues for themed parties. Organising your kids party through a professional company can also make it easier to put together a great day during the summer, and can help turn a good kids party theme into a truly great one.
Some of the more popular themes that you may want to try out during the summer include having a garden party with a Hawaiian or fiesta theme; the latter can involve using ribbons and pinatas. Animal themes may also be used with pony rides in your garden (if you have the space), or through a trip to a local petting zoo. Most zoos will also offer birthday party packages for children. You might also want to create a simple camping theme in your garden with a BBQ, tents, and games.

Useful activities and party games for a summer themed birthday party can include water slides, bubble and balloon games, as well as painting and drawing on canvases - there hopefully shouldn't be too much of an issue with mess. Mini science experiments might also be set up, and can be enhanced through the use of instructors. Similar activities might involve a trip to the beach or to local playing fields for sports days.
Sports and beach parties can also be carried out through themed parties organised by professionals like DNA Kids party specialists. These parties can be ideal for 5-11 year olds, and can be put together in local parks or indoors, where teams can be created to play football, cricket, netball, hockey, and other sports; other sport themed games might include Olympic trials and relay races. Party food and special prizes can also be given out as part of a day.


Other ideas for themed summer parties can include hosting a beach party, which can involve games such as hula and limbo, as well as volleyball and treasure hunts. Going with a professional party entertainer can also allow you to put together parties around jungle themes, as well as school discos and dance parties using UV lights and light shows.

It's worth balancing out the cost of a summer themed party by looking into options for renting private space in a local park for the day, which might end up being cheaper than you think compared to a hall or venue. Booking a kids party specialist can similarly mean that you gain the peace of mind of a CRB checked entertainer, as well as different options if the weather changes and backup party plans have to be explored.