The Hauppauge HD PVR 2 Gaming Edition is a high definition recorder, designed for creating your own personal game play videos and for sharing online via Youtube, Twitch or even Twitch Live Streaming, or simply showing your friends whilst at home. According to the retailer at Tech Inventory the PVR 2 records footage from your gaming console and downloads directly straight to your pc or laptop using HD H.264 format. The unit requires installation of the ArcSoft ShowBiz Suite, which is included with the Hauppauge HD PVR 2 Gaming Edition purchase. ArcSoft ShowBiz Suite will capture your real-time game play, and edit previously recorded games, though, it is worth taking into account there are better video editing applications on the market. ArcSoft ShowBiz Suite does have a wide range of video conversion tools as well.
The current generation of gaming has seen thousands of video uploads to YouTube and other social networking websites. Short films made by gamers showing off their skills, usually showing First person and Third person shooters. This unit is a birth product of the gaming revolution, and is of no surprise to me that such a gadget should rise from the evolution of video games.
PVR 2 sounds like the gamers dream accessory, it looks good, and does exactly what it says on the tin. The unit records directly to your PC and stores data automatically much like Garmin Swim does. The PS3 connector has to use its older more out of date component cable, whilst the Xbox uses its HDMI connection. This is apparently due to Sony making it illegal to do so, but it is more likely Sony simply couldn't be bothered to contest against Microsoft; hopefully, this will change with the introduction of the next generation consoles that are rumoured to be hitting the market in the next year.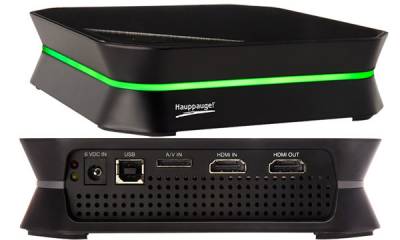 However the Hauppauge HD PVR 2 Gaming Edition is great value for money, you can purchase one now for £115 direct from Tech Inventory, excluding the delivery cost, though some retailers have a free delivery service, which at its best is 3-4 working days. For an extra pound or two, Tech Inventory will deliver this item on the next working day, in comparison with other retailers of this product and their delivery services. This single unit is usually sold for £120 - £150 on average, so you know you're getting a fantastic deal from this new online store.
The actual recording unit itself has a futuristic but modern exterior, coloured black with a neon green band that centres the X shaped box. Video modes come in 1080p and 1080p/30p. The ports include a power cable, 1 x audio / video - HDMI input - 19 pin HDMI Type A, 1 x audio / video - HDMI output - 19 pin HDMI Type A, 1 x audio / video – input and 1 x Hi-Speed USB - 4 PIN USB Type B.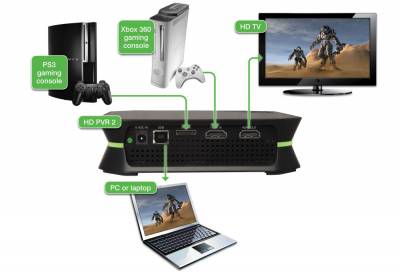 Hauppauge also comes with 1 x USB cable - external - 2.7 m, 2 x HDMI cable – external, and Component video cable – external. The unit comes with its own software to install to your computer and is compatible with Windows XP/Vista/7 and system requirements are quite low, only needing Pentium 4 - 3 GHz - RAM 512 MB - HD 220 MB.
All in all this is a great bit of tech, and I 100% recommend to any gamers out there looking to show off your skills to the online gaming community. PVR 2 looks good, works great and is simple to use, so get out there and see if you can record yourself "no scoping" a jet out of the sky with a magnum!