At first glance this just appears to look like any other digital watch. However upon closer inspection we realise that this could be the best swimming product since the invention of goggles. Garmin have designed this fabulous little swimming aid that can really help to improve your technique and assist your concentration whilst in the water. Garmin swim is a swimming tool that counts the laps you do whilst you concentrate on your strokes and speed. The little accessory has a sleek design which cuts through the water so it won't slow you down, and you can replace the battery yourself around once a year as per the manufacturer.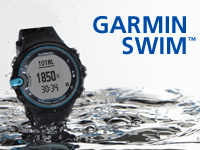 Garmin Swim has an easy to use basic interface so anyone can use it. Once on your wrist you simply input the size of the swimming pool your about to use and it automatically calculates the amount of lengths you swim. Also with Garmin swim you can input swimming drills and find out how fast you pace yourself through the water. Another great feature is that Garmin Swim is also a watch and an alarm can be set, and to help you stay motivated it displays your weekly accumulated distance under time of day.
My favourite feature that comes with Garmin Swim is the fact you can upload the data you collect to Garmin Connect, and online free feature so you can analyse your workouts. You can share your progress with friends and family, and whenever you're in range of your computer; Garmin automatically uploads data using a program called ANT+, a wireless technology compatible with Windows and MAC.

Some of the best features include Lap, stroke and calorie counting, distance and pace display, configurable training pages and stroke type identification. Garmin Swim can also detect when you're resting and include time zones and 12 hour and 24 hours clock. The only feature which I think could have added the icing on the cake would have been the ability to read your heart rate.
All in all, Garmin Swim comes across as a really helpful swimming aid; it's sleek, nice to look at and has some fantastic features. The price isn't too steep from the main retailer standing at around £130; you really do pay for what you get.
Garmin Swim Reviews
Overall most people are happy with the product and while it takes some getting used to it works well. Get a solid push off the wall with a kick turn or not and the swim doesn't miss a count! The watch is attractive and comfortable to wear as a normal watch too. It isn't overly complex to use but expect to put some effort in to learning it over time.