3 minutes reading time
(624 words)
Rani Mukherjee's Alleged Relationship With Aditya Chopra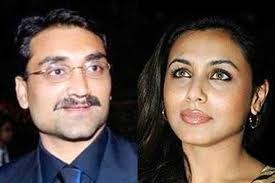 Rani Mukherjee's Alleged Relationship With Aditya Chopra
Rani Mukherjee dislikes sharing her personal life with the media and is always secretive about this. Till now, Rani has never spoken to the media about her relationship with Aditya Chopra and at every opportunity when she and he were paired, she would lash out strongly at the media. Rani Mukherjee was addressed as Rani Chopra accidently by Shatrughan Sinha, veteran actor at a recent event where Yash Chopra's statue was unveiled. This has given the rumor mill a chance to keep gossiping about Aditya Chopra's relations with her. The gossip is that both of them are married officially now but neither of them has spoken about it.
TV Shows And Awards Are Both Just The Same, Says Sajid Khan
At Himmatwala's theatrical promo launch at Gaiety Galaxy's single screen theatre, Sajid Khan was speaking to the reporters. With regards to the credibility of the awards given to film, Sajid Khan the director seems to be a bit skeptical hence he is found comparing them with shows on television. When questioned by reporters about the credibility award functions have, he said that very soon they will also have Ajay Devgan and Sajid Khan Foundation Awards.
Salman Khan's New Enemy Is Now Ranbir Kapoor
One of the most sought after directors in Bollywood is Ram Gopal Verma who makes movies that shock and make you think. Hate him or love him, but you cannot ignore him. His next venture 'The Attacks of 2011' is a controversial topic, one that is sure to ruffle a few feathers. This film was eagerly awaited by movie buffs. After watching the movie with his son Abhishek, Amitabh Bachchan was moved to tears. At the end of the movie he seemed quite disturbed seeing the city, which he has called home for decades, under attack. 'The Attacks of 2011' is surely going to move thousands of people across the world.
If Suhana My Daughter Becomes An Actress I Shall Be A Proud Father – Says Shahrukh Khan
Suhana, is the twelve year old daughter of Shahrukh Khan and Gauri Khan who have been married to each other for 21 years. She has often been seen posing in front of the camera with her parents. Shahrukh says that he would really feel proud if his daughter became an actress. Right now Aryan, his son is gone to London for further education.
Lakhs Spent On Ranveer Singh By Sanjay Leela Bhansali !
Ranveer is being trained by a personal trainer for the film Ram Leela, and Sanjay Leela Bhansali is believed to have spent a whopping amount on him, believe it or not! Sanjay wanted Ranveer to have a rippled body look with a six-pack abs thrown in, and was so fixed on it that he was ready to pay £7500 each month to the trainer, as stated by reports. This amount excluded phone bills, conveyance expenses as well as accommodation. This shows, looking good does not come cheap!
Raveena Tandon Facing A Complex Medical Condition!
Reports state that Raveena Tandon is battling a complex medical condition called hyperostosis. Her footwear including the not so fashionable wedges and platforms has always been criticized in the fashion pages. At many of the social events and film sets she has been seen wearing stilettos for hours together. On her right foot, the bone has jutted out of position and she has developed hyperostosis. Surgery has been advised by the doctor, which means that she has to lie in bed for more than a month with her leg held up. This is one idea she dreads as she has to take care of her two kids. Wearing comfortable footwear is the other alternative. People really sympathize with her.
Related Posts
Comments
No comments made yet. Be the first to submit a comment
By accepting you will be accessing a service provided by a third-party external to https://style-review.com/