We stayed for a week at the 5 star rated Mark Warner exclusive resort in Rhodes Greece during the beginning of June in 2013. We have previously gone with Mark Warner for the childcare we received while skiing in Les Deux Alpes, and were eager to get some time for ourselves again – this being a big feature of their products.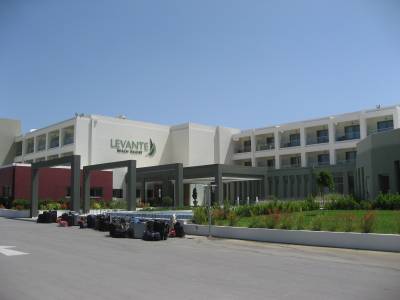 I am more into watersports than the mountain biking and tennis though I did briefly use the tennis courts when on the first day the water was too rough to be open to use even as swimming which is rare. Had we the option of staying longer I would have loved to do some Mountain Biking Tours of the local area.
The welcome was typical Mark Warner friendly and informative and the welcome meeting really puts you in the right place in your mind as if you are like me you may still be in work mode at least still wanting to unwind from the days travel with children in tow. We were introduced to the various section leaders and encouraged to contact even senior management in the event of any need. I can personally say that Sue (Resort Manager) is good to her word and she really does listen and take the time out of her long day to meet and help you.
Our Room
The room was actually a suite and almost fully lived up to the 5 star rating though only a couple of times have I had the pleasure before.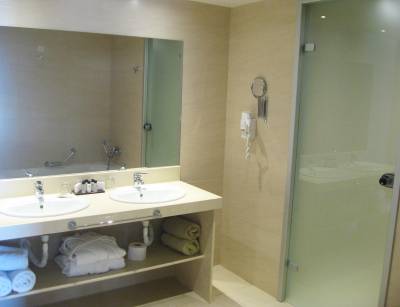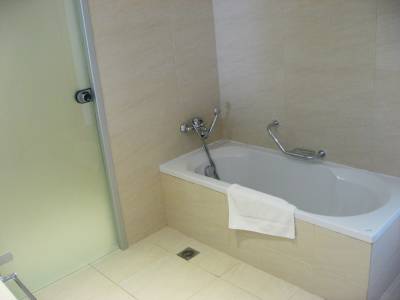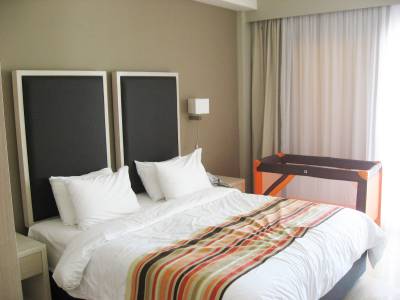 Its short comings were some trim came loose around the sliding door separating the two main spaces and the lack of English speaking channels that were missed if only slightly. A children's channel in any language would have been great in fact. The other factor was energy saving door cards that turned everything off if I went for a run – Emily and Summer left with no power ac fridge etc. The fridge really needs full time power and in high summer you would like a constant air con in action for 5 star rating. But those things didn't detract from our enjoyment. A safe that was big enough to hold my laptop would also have been great – or a drawer that we could have locked ourselves.
Toddler and Baby Drop In
The baby and toddler drop in is a feature of the resort where you can take your little one provided they are settled for getting off to sleep watching dvd's this allows the parents to enjoy a dinner free of the toddler/baby. Summer our daughter didn't like it and thus we got her off to sleep in her pram by walking her round the ample resort grounds before taking her into dinner with us – no drama. Due to her self induced tantrums though and subsequent vomiting it was not looking like it was working dropping her into day care. This did put more strain on us as we were not free to enjoy the things we would have loved to have done a bit more of instead of sharing time with Summer. One is required to pick the kiddies up anyway for lunch and drop them back in later on until 5 ish again or when it their tea time.
Food
I will say that the children's buffet was nowhere near close to the quality of the evening fare but was adequate enough. The variety of evening food meant I was doing a few thousand calories more per day than I would normally and it was really impossible not to dig in even taking really small taster portions you just wanted to try everything. Well Daddy pig at least did and hoped that he was burning a few off running and windsurfing. Being half board meant that alcoholic drinks were extra but represented great value and they have kept the prices very reasonable. I think it would have been nice to have had another 'half board' restaurant in a different location for those staying more than 7 nights.
Levante's Swimming Pools
Be very careful in the shallow end of the main pool the tiles are like ice – black ice and many people slip over. I think it's the combination of the 0-3ft gradual slope in. Mats are provided to walk in on but what is really needed is the graduation digging out to say a foot so the way you would enter the pool conceptually changes. It frightened me to think that you might have your toddler in your arms and though warned my partner still managed to fall over. Also some of the pathways when wet are especially slippery. I don't think the choice of tiles is so resort friendly. But we did get used to them and avoid the wet tiles that can become wet due to the sprinkler system. There were 4 pools an L shaped one closest by the beach with its own bar but not swim up which is maybe better for this kind of family holiday. An adult pool for doing proper swimming exists though water polo was in action most days for an hour. Infants and toddlers were not allowed here – though they were encouraged to join in the water polo.
There was the 80M long main pool which oddly we didn't end up in much preferring the beach maybe due to summers age and then the infant pool closest to the resort which we did use with summer. She was happy wading through it at chest height. Check the lifeguard has some toys your kids can play with – though you can always get your own from the decent shop inside the resort.
The Staff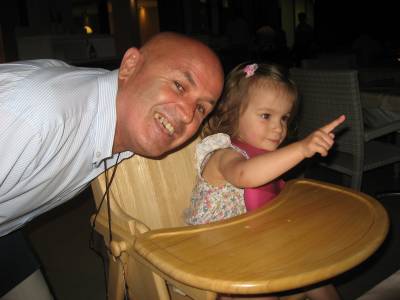 The staff across all sectors were friedly and very attentive and I would rate them all 5 star. This is something they have clearly taken seriously in this flagship resort.
The Beach at Levante Resort
How can I describe the beach accurately and honestly. It is a flat long affair immediately at the resorts edge are loungers that are comfortable with a table in rows of 3. The beach is sand at the top but in natural rows parallel to the shore it gets stonier and pebblier until you arrive at the waters edge where barefoot becomes uncomfortable to walk on. Trying not to think about it and just stepping normally helped me a bit but there is no denying it is the worst single thing about the resort. If you really like your beaches fine sand then don't come here. There are some that hate the feeling of sand though no one would say they liked this either. You could invest in some reef shoes that will help enormously but for the amount of times I was in and out I didn't feel I needed it. Summer also felt the beach and I do hope they fix it but it wouldn't stop me coming again and maybe it's why it was not too busy (an advantage). I actually got into rock building with summer and enjoyed making walls and lining holes carved from the sand. And as soon as you enter the water at a depth the buoyancy takes the weight off your feet. Does this mean that the resort should not be classed as 5 star, you can debate after this article.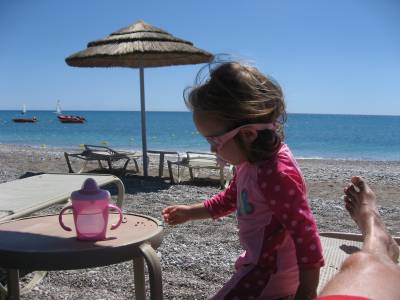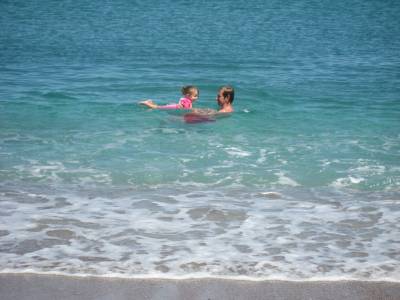 Realise that it's an activity holiday for the family.
Apart from my specific experiences noted in detail below you can partake in a great many sports and activities too numerous to mention in full but they include cycling, running,scuba diving, sailing, snorkeling (not close by) tennis, 5 a side volleyball and water polo.
Windsurfing
Included in the price of the holiday is most sports and some training if needed – certain extra charges apply for example wakeboarding or water skiing or if you want some one on one instructor help. I took advantage and Tasha duly got me windsurfing if not able to go head wind as much as I would like. The water sports crew each and every one were well practiced and trained and with ease could come and get me before I arrived in turkey for a tow back to try again they use ribs to constantly monitor the mostly lake like conditions and help you out.
SUP Boarding
Stand Up Paddleboarding or SUP -ING is getting some takers at the moment as a new thing and I decided to take one out when the sea was not at all calm as for some reason I had the impression it was a very stable platform. On calm seas it is yet you can still cause it upset. In the rolling waves I struggled to get to my feet for long and it was a process of often falling in and getting back on in windsurf style – making sure to place weight on the centerline. I tried the day after in much better conditions and it was most relaxing completely different. This time I tried different foot placement as in along the centre line much like a surfer stance or a straddle as most beginners seem to do (which is easier to paddle with) I was told by nial that I could do a simulated opposite side paddle by twisting my wrist; yet to test.
Other Sports
The morning run with either Rich or Hanna was a great start to the day and I enjoyed the distance scenery and pace and company of the other runners. A great way to meet up with others. If you would like to learn more about that check out travelrunning.com.
I was able to enjoy an hour of water pollo one morning too but yearned for pool volleyball instead which I think is much more fun for all.
I enjoyed the free tennis on offer too though being very beginner like opted to practice serving and didn't get my name down for anything. My motto when by the sea is to capitalize and hence why I also didn't get to do a bike ride. Had there been one as early as the run I surely would have.
Outside the Levante Resort
Turn left outside the front gate and you will wander into Kolymbia after 10 -15 minutes walk. It's a holiday kind of place with its own beach and bars a good escape from the resort if you really need to.
Rhodes Town (45 minutes by local bus)
There is the old town and the younger town both great to walk around and explore shop and eat/drink in – it is a beautiful town and a perfect size perhaps at least to walk around in and with a buggy. Make sure to enjoy the now grassy moat area for some shade and tranquility or hit the casino next to the beach. The beach was really crowded on the Saturday we went. Take care getting to and from Rhodes as it is poorly served by bus (not enough of them) and you might miss feeding time (at the zoo J ) through lack of space and not being able to buy tickets earlier too. It was really cheap for adults (under 8's free) at 3.5 euros return I would have paid more for a more frequent service. This 'pain' reminded me of backpacking in Croatia vastly oversubscribed bus services cramming backpackers in. To catch the bus from the levante resort leave the resort turning left on the main road and a minute later you will arrive at the bus stop in the neighboring resort.
Faliraki – 10 minutes by car.
One for the party people but does also have genuine family resorts I am told but at this point not for us so we can't say much about it.
Lindos – 45 minutes by boat or car approx..
Do the donkey ride right up to the top of the 'mountain' or beach it. Recommended to take the boat instead of by road for a more fun time. It's a great Greek example of a destination.