We stayed for a week at the 5 star rated Mark Warner exclusive resort in Rhodes Greece during the beginning of June in 2013. We have previously gone with Mark Warner for the childcare we received while skiing in Les Deux Alpes, and were eager to get some time for ourselves again – this being a big feature of their products. TheThe Levante resort on Mark Warner's site Levante resort on Mark Warner's site.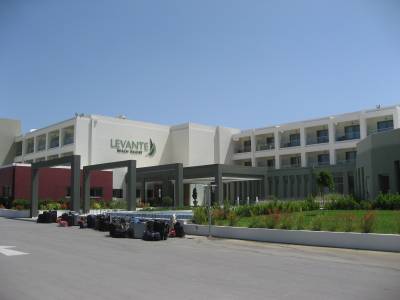 I am more into watersports than the mountain biking and tennis though I did briefly use the tennis courts when on the first day the water was too rough to be open to use even as swimming which is rare. Had we the option of staying longer I would have loved to do some Mountain Biking Tours of the local area.
The welcome was typical Mark Warner friendly and informative and the welcome meeting really puts you in the right place in your mind as if you are like me you may still be in work mode at least still wanting to unwind from the days travel with children in tow. We were introduced to the various section leaders and encouraged to contact even senior management in the event of any need. I can personally say that Sue (Resort Manager) is good to her word and she really does listen and take the time out of her long day to meet and help you.
Our Room
The room was actually a suite and almost fully lived up to the 5 star rating though only a couple of times have I had the pleasure before.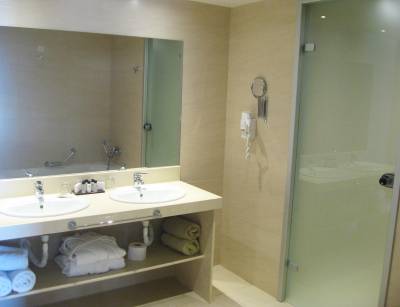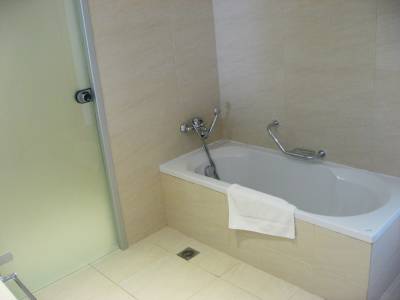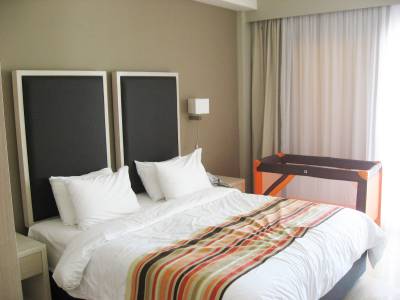 Its short comings were some trim came loose around the sliding door separating the two main spaces and the lack of English speaking channels that were missed if only slightly. A children's channel in any language would have been great in fact. The other factor was energy saving door cards that turned everything off if I went for a run – Emily and Summer left with no power ac fridge etc. The fridge really needs full time power and in high summer you would like a constant air con in action for 5 star rating. But those things didn't detract from our enjoyment. A safe that was big enough to hold my laptop would also have been great – or a drawer that we could have locked ourselves.