The excitement kicked in on Friday morning when London Fashion Week finally got underway. With thousands of people thought to be attending the most notorious event in the fashion industry, LFW 2013 is certain to bigger and better than ever. As fashion designers prepare to approach the catwalk with their most recent collections, plenty of celebrities, press and fashion enthusiasts from all over the world are expected to take their seats and enjoy the show.
If you are lucky enough to be attending any of the fantastic events scheduled in London this week, choosing the right outfit is crucial. As you will be amongst some of the most prestigious people in fashion, guests need to make sure they are dressed for the occasion. Whether you are a blogger, budding journalist or just have a thirst for fashion, showing off your individual style is highly important if you want to get head hunted. A lot of great opportunities can arise so make sure you are prepared!
If you are transporting from one venue to the next to watch your favourite shows, you may want to wear a jacket to ensure you stay warm throughout the day. With spring just around the corner, try incorporating some bold colours into your ensemble to help make your outfit pop! Hybrid Fashion stocks a classy collection of feminine designs that will bring elegance to your look. Spruce up your outfit further with a stylish clutch bag, head-turning heels and some statement jewellery.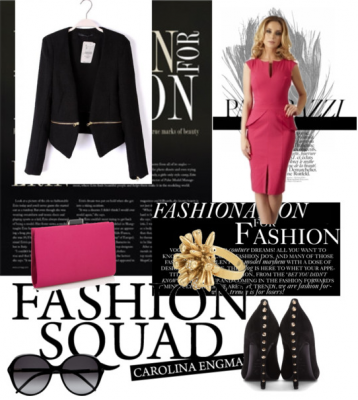 As the sun begins to set, prepare yourself for the after party by slipping into another one of your favourite Hybrid dresses. Keep your outfit simple yet classic – for added WOW factor; try incorporating some of key shades and styles into your look. Oxblood and peplum look great together and are still key trends for the current season. Opting for minimal jewellery and accessories will let your dress do all of the talking.