There are some occasions in life you will never forget and several of them revolve around your wedding day. The proposal and actual wedding day are moments you will likely cherish forever, and one of the biggest reminders of both of these occasions is the wedding ring. Certainly you'll want to make sure that you've done your homework, whatever ring you choose. Here are a few suggestions to help along the way.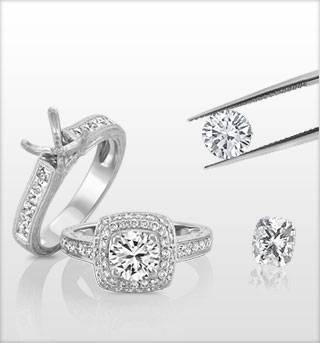 Decide On a Budget
One of the first things you'll need to do is decide just how much money to spend. Many people say that your budget for a wedding ring should be two month's salary. Whether you spend more or less is up to you, but it is a purchase that you hope will last a lifetime, so you should be certain you have thought it through. After you have made this decision, you shouldn't deviate far from your budget. Paying more money than you're able doesn't mean you love your sweetheart more! Of course, this is no time to start skimping, either. The important thing is that you make a good choice based on what you can afford.
The Four C's
Cut: The better the cut, the more the sparkle, as a quality cut manipulates and reflects light more efficiently. This is the quality that you (and others) will notice the most and it will pay off for many years to come. Cut may very well be the most important C.
Clarity: This refers to the flaws in the jewel. Many flaws are extremely difficult to detect, even when viewed through that fancy magnifying glass called a jeweler's loupe. You may be able to save yourself money by going for a bit of a lower grade on clarity.
Color: This is another area where you may be able to save. Diamonds are graded by letter, from D, the purest, to Z, which is obviously the least pure. By going down a little on the grade scale, you can save yourself a significant amount of money in this area as well.
Carat: Although many people think carats refer to size, the term actually refers to how much the diamondweighs. The difference between a ring that is .97 carats and one that is exactly one carat can be significant, as the prices escalate at the one carat level. You can save yourself a lot of money here by simply buying at just under a carat.
Source: http://www.shaneco.com
Your Shopping Partner
Although you could go shopping by yourself, you're probably better served asking someone to come along with you once you've done your homework. At this point it depends on whether or not you want to surprise your sweetheart. If you do, you should bring along a friend, preferably one who has done this before. Even if you bring along someone with no experience, you'll be glad to have someone on your side that you don't feel is pressuring you into making a purchase. On the other hand, if you aren't very concerned with the element of surprise, you might do what a lot of couples are doing these days and simply go shopping together. The upside to this, of course, is that you know you'll get a ring she'll love.
Now that you've learned these helpful tips, it's time to get out there and make a decisioin that you both will be able to feel good about for the rest of your lives!