The Trade Winds Hotel sits atop a lovely hill on the north west of Antigua overlooking the well-regarded Dickenson Bay.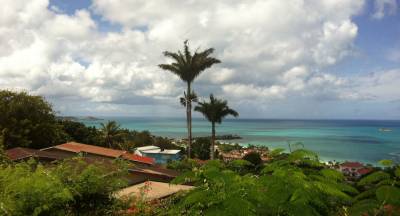 It extends its high levels of service to the Bayhouse Restaurant 'au sein'. The spacious deck has many tables with excellent views you can't help but think there are few better places to come and eat at lunch or for one evening. Indeed the barman has served me up the best twist on a mojito I have ever had ! I have had mojitos in Havana too. It's like English football to the cocktail world – they just invented the game !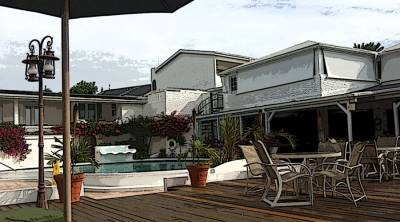 I have to say it has been a less than clear day today a bit muggy out of season and here is a perfect place to capture the wind that blows through Antigua. I have taken the afternoon off and escaped Jolly Harbour where I stay. BUT I long to be in this part of the island. It just feels good to me and I have become to familiar down there a nomad like me – time to haul ass !
The pool is perfectly refreshing – I'm just going back in, be with you again soon.
I wish you could have been there ! A nice dip and now another mojito twisted by lady ginger – but you can feel bad for me since it is a temporary rest from the racetrack.
For more on the Trade Winds Hotel and Antigua itself check out one of the best websites for Antigua here : https://bestantigua.wordpress.com/2013/09/17/trade-winds-hotel-for-business-and-leisure/