So here is another look at some outlandish concept designs of some "would be" gadgets and technology. I believe it's important for us as the consumer to discuss what we want from the big manufacturers so that we push tech to new limits and achieve greatness. I mean, I want to see a completely robust and waterproof smart phone with solar re-gen technology installed to re-charge. I want to play with a remote controlled tank that can do everything a real tank can do. I'm sure some people would want a toilet that cleans itself or parents wanting a pram or a bouncer that monitors the baby heartbeat and temperature, that alarms when any abnormalities are detected. Alas, Let me digress, I want to show you some designs that have been shown to me in the last few days that I'm just dying to speculate on.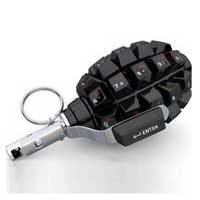 This appears to be some form of a keyboard in the shape of a grenade. I couldn't see how this would work to be honest. The design would have to be much bigger to house all the keys for a start, and I think we would probably accidently hit a few buttons. All in all a completely bad idea all round. The traditional keyboard can, and will only be replaced by the digital touch screen.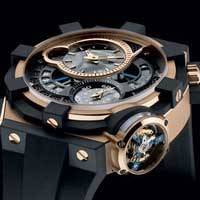 Now this design I rather like, although I can see the downside immediately. Having the working parts positioned externally, although looks contemporary in fact is exposed to the elements and dirt. I would imagine constant maintenance is required to possess such a lofty design. I believe the strap design and what looks like a compass on the side would work, but the topside of the watch would require a small pane of glass to protect it from water etc...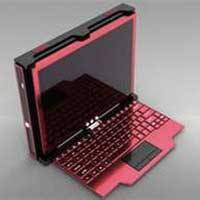 A metallic red and black, robust looking suitcase laptop. I quite like this, although it does look like it might fall over. When looking to the future its quite clear to me that something like this probably already exists. I don't think there's anything special about the design of this computer, it is very appealing to the eye and would probably house an amazing graphics card and processor. But this probably already exists, it was only mentioned in this blog due to how pretty it is.