1) In a couple of sentences can you describe your clothing brand for us
SDG East London is the creation of Italian designer Stefania Di Ghionno.
SDG was born in 2010, the clothes are handmade in East London studio, the aim of the brand is create clothing to be worn in different ways, good fabric, simple shapes, easy to wear, the most are in limited editions or unique.
www.sdgeastlondon.com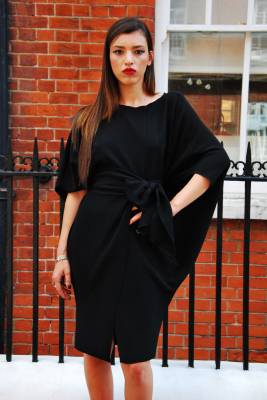 2) What makes the Spitalfields Saturday Style Market a unique place in your view?
Unlike the shops you can find unique pieces, handmade made by different artists and cultures.
3) Who inspires you (not necessarily for fashion but in general) and why..
The most elegant woman that I know… Bianca Jagger, Gia Marie Carangi and my Mum. They all have a natural style, elegance and simplicity. Very cool.
4) How do you manage your own wardrobe - recycling clothing or storing them for example
My wardrose is just vintage from my father and mother and from vintage shops and my own creations…
5) What has been a great recent motivating moment concerning your fashion.
All my designs come from fabrics I find, fabrics are my motivation and ispirational guide. It's easier to first find the fabric and think about the garment that you want to make, rather than create a sample and after find the right fabric.
I just like looking at people, having a lokk about styles of years past… I'm not a fashion victim or a follow of fashion.
6) What would you like to see changed the most in fashion world.
No male no female…. Just unisex… this means that each person must be completely free to wear what they want
SR: THANK YOU SO MUCH FOR TAKING THE TIME TO ANSWER THESE QUESTIONS :)
---
Stefania studied "Costume and Fashion History" and she graduated with a masters in "Marketing and Communication" in Bologna, Italy.
After relocating to East London she initially started selling vintage clothes and handmade dresses in various markets in London including Camden Town, UpMarket and Spitalfields.
Currently all S.D.G. products are produced in our studio in Hackney Wick, London, UK.

They are also collaborating with many artists and photographers for forthcoming projects. Keep an eye on those incredible talents… the new collection is coming up!
Backstage ! and follow SDG here - http://twitter.com/SDGEastLondon