Verona a quick guide
Verona is one of the most beautiful cities in northern Italy. The city is only two hours away from Milan and one hour away from Venice, therefore Verona is the perfect place to be visited by those whose Italy travel plan passes through Milan-Venice route.
There are a lot of places to visit in Verona city center. For starters, let us remind that the fame of this city arrives from the incredible literary work of Shakespeare: Romeo and Juliet. In fact, one of the most visited touristic spots in Verona is the house of Juliet which is located in the historical city center. You need to pay a little fee if you want to visit the interior of the house which theoretically belonged to Juliet, however just visiting the small yard in front of Juliet's house and stopping by the souvenir shops are some other options as well.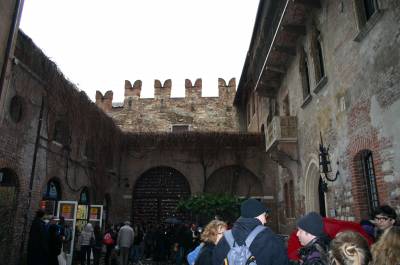 If you get out from Juliet's house and turn to your left, you will arrive to Piazza Erbe in less than five minutes. This square is surrounded by nice cafes and shops. Here you can also find a lot souvenir stands where you can buy various gifts which are unique to Verona and Italy in general.
If you turn back towards the direction of Juliet's house again and follow Via Mazzini all the way through, you can enjoy the most famous shopping street of Verona. On this street you can find a lot of luxurious brands in addition to the Disney shop and others. Once you finish Via Mazzini, you will arrive at Piazza Bra. This is a big square surrounded by nice cafes and the gorgeous Arena. The Arena (Colosseum), which is smaller compared to its big brother in Rome, hosts numerous concerts, theatrical works and operas throughout the summer season. During the day, the Arena is open to the public and tourists.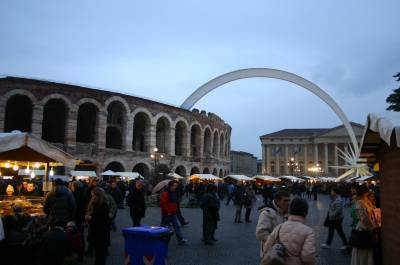 Apart from the above mentioned main touristic places in Verona City center, you can also just take a walk around and enjoy the architecture of the old city center. When you are hungry, you may stop at one of the famous Piadineria places or try one of the many restaurants which specialize in horse meat. Yeap, you did not hear it wrong; Verona is very famous with its unique horse meat dishes. In fact, as you travel around the city center, you may come across butchers which are specialized in and can only sell horse meat!
When you are finished with exploring the city center (and if you still have some time on your hands) you may want to travel a little bit out of the city center and visit places like the Soave Castle which is located in Soave. This well preserved castle is now inhabited by modern day houses and shops. The castle hosts many traditional events throughout the year where you can see the local inhabitants in their medieval costumes.
Apart from Soave Castle, you can rent a car and pay a visit to the lovely Garda Lake as well. Garda Lake, which is a main attraction place for those who want to escape the summer heat is a perfect touristic location filled with shops and restaurants.
Credit
Photo by Alberto Bigoni on Verona on Unsplash