4 minutes reading time
(838 words)
French Country Decor: Embracing the Casual Elegance and Natural Rustic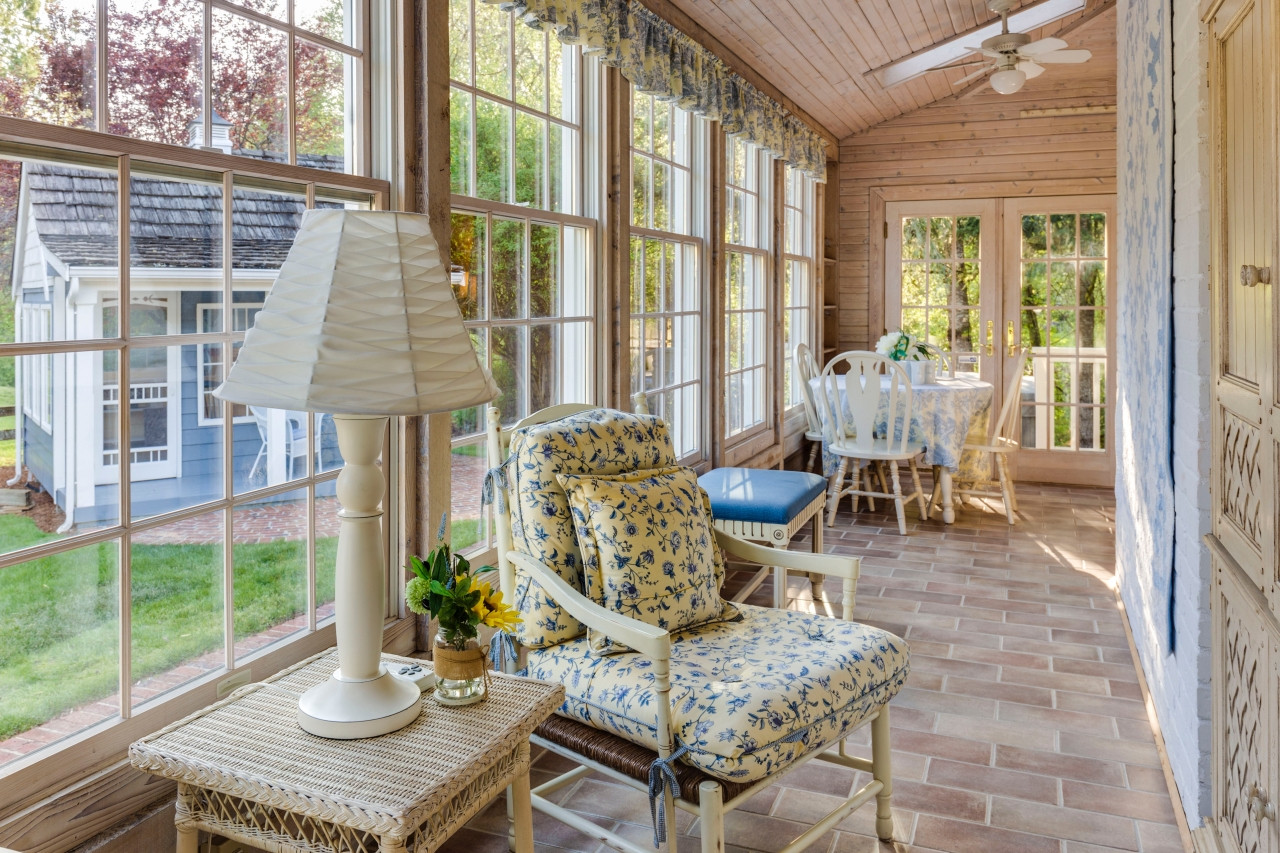 ​Do you miss that time you used to spend in France? Well, now you can bring a little touch of this charming country to your home with romantic and rustic French country décor. This design style has a perfect balance between comfort and freshly-aesthetic appeal and it fits into every home and every family. With some shabby chic furniture, soft prints and bold accents, you can easily recreate this look in your home. Here are a few décor ideas you can pull off.
​French country style tries to imitate aged and loving farmhouses that grace French villages. Since the accent here is on 'aged', forget about new, shiny and polished furniture and opt for something whitewashed and filled with character. This lived-in vibe of distressed furniture will give your home a more authentic look. Here's an idea: grab a few whitewashed mismatched chairs from a flea market and combine with a gorgeous wrought iron table and you'll have a perfect French-inspired dining area. Or, grab a whitewashed coffee table with a plush tufted cushion top that provides you with storage space, seating and added comfort to rest your feet as you relax with a glass of red.
​French country décor loves practicality, so a versatile storage bench will be a perfect addition to your home. You can use it for extra seating, a handy place to rest while getting ready or practical storage for seasonal wardrobe and linens. Opt for something neutral and trimmed with nailheads for that classic French look.
Light window treatments and barn doors
​
​French country décor requires plenty of natural light, so ditch heavy drapes and pick up some customizable plantation shutter to provide privacy while letting plenty of sunshine in. A wrought iron outdoor bench under the window will serve as a bold yet fitting accent piece. No matter if dividing the living room from the dining room or serving as your bedroom door, barn doors will fit into your French country home perfectly. While you can find used pieces on auctions, it's best to grab new and gorgeous barn doors in natural timber shade and color wash it and weather it to your liking. There's no better way you add interest and charm to any room than with a unique entrance, so be free to experiment. Also, sliding barn doors are perfect for all small spaces because they take up minimal square footage!
If you want to add some color to your whitewashed furniture, choose throw pillows made with toile fabric. This light linen feature intricate motifs from pastoral life together with landscapes, flora, fauna and figure elements. In the old world, this fabric was used for everything from furniture and window treatments to bedding and linens, but if you want to be subtle, you can just opt for throw pillows. If you have an otherwise uncomplicated and minimalist design, the toile will be a perfect addition to your French-inspired home.
​Botanical and zoological details are often seen on French country style walls and they allow the outdoor space to merge with the indoor and create a balance and close relationship with nature. So think floral art prints, potted plants, and bouquets of wildflowers. And be creative with containers for your greenery! Think ceramic milk bottles, antique cans, and old jars—these have a lot of charm and are super practical. Finish the look with a proud rooster figurine. Roosters are symbols of French people as well as their cuisine, so it's a perfect addition to your kitchen or dining room.
Plenty of jars in the kitchen
​
​There's not a lot of plastic in French country kitchens. Most food staples are kept in glass jars and metal boxes (get them at garage sales and thrift shops) and marked with handmade labels. When you combine these with some iron wall hooks for hanging copper cookware, you'll be almost able to smell classic French cuisine!
For a touch of playfulness and whimsicality, you can decorate your home with a vintage birdcage. No matter if it's used to house a bird, your favorite décor piece or a plant, a birdcage will remind you of the royal gardens of Paris. Choose a model that's handcrafted and whitewashed, made with wrought iron or accompanied with a wooden construction—these leave the best impression!
​When creating a perfect French country design, every detail is important. So, make sure to light up your space and allow people to see your interior. The most impressive and effective way to do so is to invest in a beautiful chandelier! It will not only illuminate your home but also capture the unique essence of the French design. Look for a model with rustic details and neutral/muted finishes.
Charming French Country décor can be done on a budget, so it's available to everyone who craves some romance, relaxation, and idyll in their life. Pick up some of these ideas and you too will be able to add some French village elegance to your home.
Related Posts
Comments
No comments made yet. Be the first to submit a comment
By accepting you will be accessing a service provided by a third-party external to https://style-review.com/