One of the best items you can go for if you want to complete different Summer outfits, espadrilles are a lightweight form of footwear that can be worn as a slip on shoe for heading to and from the beach. Espadrilles are flexible enough to be worn as an alternative to flip flops, and as a harder wearing choice of footwear that can be paired with chinos and cropped trousers, as well as with casual shorts and dresses, depending on the circumstances.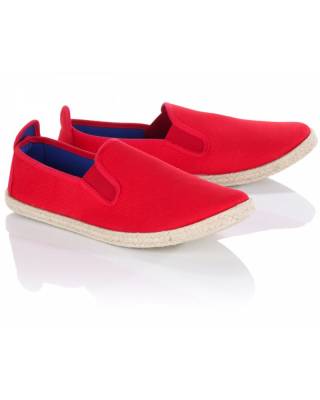 Espadrilles, and canvas espadrilles in particular, were first worn by peasants as an easy to wear slip on shoe during hot weather; they're actually a bit like slippers or loafers, and can be found in harder wearing canvas styles, as well as lighter cotton versions; canvas espadrilles are best for wearing day to day, while cotton versions are more suitable for trips to the beach, and for avoiding damp weather - they're also a good way to mix up flip flops with more stylish options.
Canvas espadrilles can be an ideal item to finish off a Summer outfit - being more hard wearing, they can be worn as a comfortable shoe for different outfits, and can be paired with denim and cargo shorts, as well as with white t shirts and blazers for men; the European style of espadrilles also makes them anessential item for a Mediterranean holiday, where they can be combined with fedoras and sunglasses. However, you can also wear them just as well with jeans and chinos.
For women, espadrilles can be worn in plain styles, or with open toes and in wedge versions with strips - again, you can wear espadrilles as a good alternative to flip flops, and as a practical and more inexpensive way to mix up your collection of ballet flats and boots. In terms of colour and style, it's possible to find espadrilles in brighter prints, as well as with softer, plainer cotton that can make them ideal for the beach.
It is important to remember, though, that espadrilles are primarily Summer footwear - wearing them in the rain or at a muddy festival probably isn't the best idea, as they're liable to get ruined if you're not careful - take the same sort of care as you would with Converse sneakers, and consider having a few different pairs of espadrilles handy if you want to experiment with colours and styles.
At the same time, you can try out different espadrilles with outfit colours - for men, navy and brown espadrilles can be used to offset printed t shirts and brighter coloured shorts and chinos; they can also be found in bright styles for a more distinctive statement - look online at brands like Blue Inc to find a good selection of espadrilles. When looked after and paired with the right outfit, espadrilles represent a good investment for the Summer for both men and women, with canvas options best if you want a pair of shoes that are going to be comfortable but more long lasting than cotton versions.
Author Bio:
Donna B. often visits Blue Inc to find a good selection of espadrilles. Donna is getting ready for the summer already and can be found blogging about different styles to get you through the warmer weather.