Sami Brown - Fashion & Lifestyle Blog
2 minutes reading time
(310 words)
Prepare your Garden for Summer
Now that spring has finally sprung, we can now spend every moment of our free time in the garden. Whether you choose to invite your friends and family round for a BBQ or just sit back and relax in a lounger, you need to make sure your garden is in tip-top condition for the upcoming summer season. Here we take a look at some of the ways that you can enhance your garden to make your neighbours envious!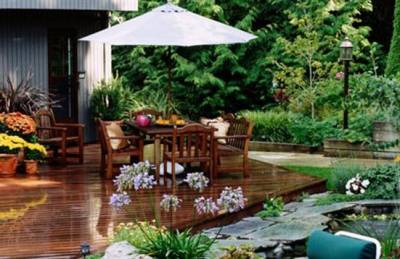 (Image Source - http://vithouse.com/redecorate-patio-design-paving-garden-designs/)
Flowers
Summer instantly screams sun and flowers, so what better way to prepare your garden than to plant some flowers of your own. Sunflowers are perfect for the summer and look truly stunning when they have fully developed. Planting your own flowers is a lot more rewarding than buying some that have already opened up. However if you aren't patient enough to wait, you can always buy some from your local garden centre.
Decking
Putting down decking in your back garden is a great way to give it added oomph. There are many different styles of decking for you to choose from to make sure it complements your home perfectly. Once built, you will be able to add a table and some chairs to create a nice place to relax in the sunshine with your friends and family.
Ornaments
You can get a great range of garden ornaments that will give your garden that finishing touch. From animals and fairies to bridges and fountains, there are plenty of ways to add a unique twist to your family lawn. Whether you want your garden to follow the theme of a wild garden or would prefer to fill is with fantasy ornaments such as angels and fairies, there is something to suit each individuals taste.
Find a great range of building materials at Beatsons.
Related Posts
Comments
No comments made yet. Be the first to submit a comment
By accepting you will be accessing a service provided by a third-party external to https://style-review.com/