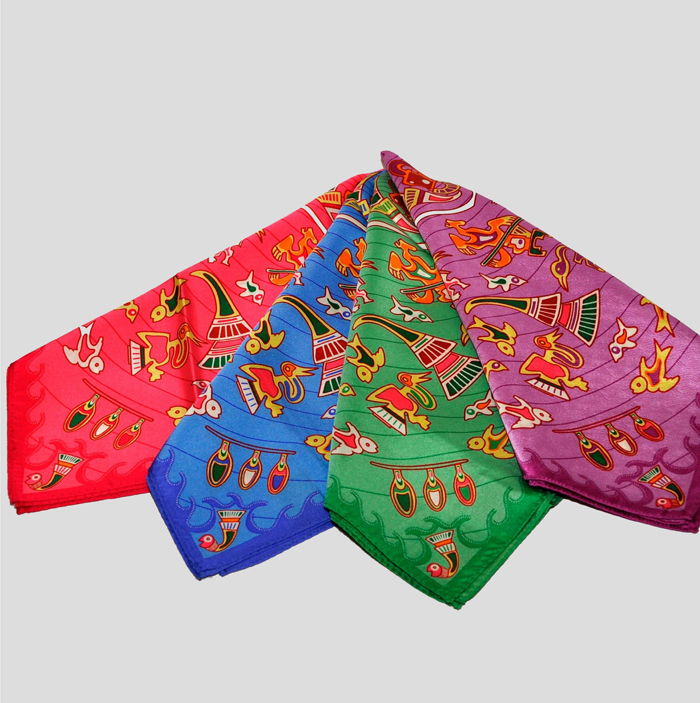 By Barbara de Mul
I always thought that silk was just for pyjama's and maybe the occasional scarf, so I was quite thrilled to stumble upon Huerta-Goischke, a full-fledged collection of luxury poncho's, necklaces, shoes, wallets, in a happy marriage between colourful pre-Columbian and luxurious Asian silk.
Want to see your memories of your flight over the Nazca lines eternalized on your favorite scarf when you wear it to the office? Do you work with Peruvians and want to send an appreciative message by offering a personalized (business) gift? Do you wish to convert your tie into a conversation starter?
If your answer is yes to one of the three questions, chances are you'll want to add Huerta-Goischke to your shopping address book. Expect to see the famous Nazca condor in a bright sky blue flying over a desert yellow tie, a series of tumi's (ceremonial sacrificial knives) adorning a shawl, or fun espadrilles with drawings from the Chimu found in the famous adobe city in Chan Chan.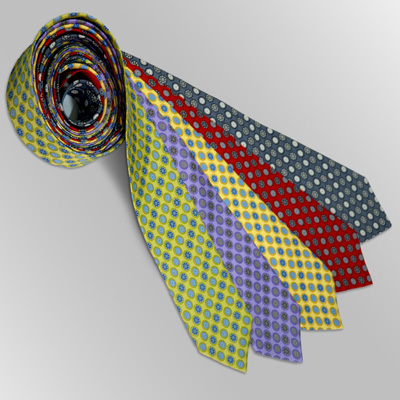 This young brand with two shops in Lima wants to offer more than the traditional keepsakes for international market, while maintaining a distinctive Peruvian touch. In the words of founder Carmen Huerta-Goischke: "I want to make our rich heritage come alive, not only through images and designs of the Inca which have become quite well-known throughout the world since the boom of tourism in Peru. I want to put our whole history on the map, including our many pre-Columbian cultures such as the Paracas, Chimu and Mochica."
In other words, many of the marvels one encounters from north to south and east to west of this vast country, find a reflection in the creations of Carmen Huerta-Goischke, a Lima born economist who founded her namesake company in 2010, not only as an outlet for her creativity, but also as a tribute to her son Michael, who passed away at a young age. Huerta-Goischke has a passion for history, color and especially silk.
Apart from the original use of ancient symbols,Huerta-Goischke makes allthe difference with its trademark material: silk. Goischke found the proverbial hole in the market: while other brands work almost exclusively with native materials such as alpaca and vicuna wool, Carmen has a predilection for silk, because she feels it adds a touch of mystery and class to everyday garments.
Peru is world famous for its wool but lacks a major silk industry, so HG's trademark fabric is directly imported from Korea, where part of the collection (scarves and ties) is also produced, but all the designs come from Peru. The garments have a timeless business style but the bright Peruvian colors make them look edgy and on trend.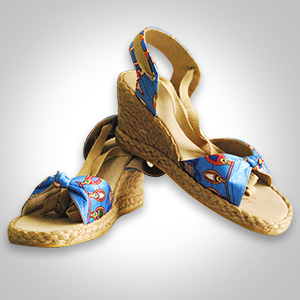 The young brand will shortly open new boutiques in Cusco and at the national airport. Unfortunately, purchases via internet are not yet available because of the high shipping prices from Peru, which make the costs too high for the lightweight silk.
So, I'll be sure to send my friends traveling to Peru with an extensive shopping list for a poncho, necklace, and, while I'm at it, a pair of pumps, because I am quite fond of this happy marriage between updated pre-Columbian designs and luxurious Asian silk.
Traveling and writing are Barbara's lifeblood. She likes to travel for long periods of time or, when she can, she revisits, so that places become friendly, yet preserve a little mystery. Barbara wrote this article on behalf of Aracari Travel, specialists in providing personalized itineraries for luxury travel in Peru.