Imagine if the Great Gatsby was your uncle, and he was Peruvian, and invited you over for the summer….if this were true, your Hudson might have been the Pacific, and your room a lofty dream surrounded by great artists.
This brand new hotel (its first guests were welcomed in May 2013) is known as 'The House of Barranco' (La casa de Barranco), and this is exactly what the management aims for: a home away from home, but also a celebration of life and all things beautiful.
Barranco has always been known as the bohemian district of Lima, but up till now it never had a real 'art hotel'. The art is as eclectic as its international visitors, and some of it is for sale, but mostly it is there to create a place of wonder, as a complement to the grandeur of the French classic architecture.
From the moment you set foot in the hotel, you'll also see large coffee table books everywhere: 'we want to spark people's curiosity, inspire them and make them feel part of Peruvian culture but also of the whole world' says Carlos Jimenez, a Spanish arts historian who now works for the hotel.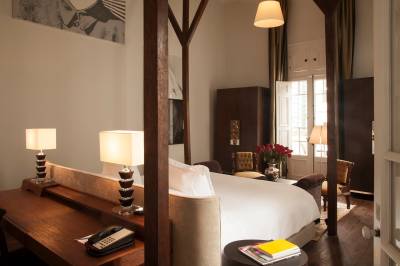 And it's all in the details for this new brand in town: upon check in, guests are welcomed with champagne, poetry and personalized gifts. It's the second venue of Andean Experience in Peru, after Titilaka down on the famous lake, which is part of the renowned Relais Chateau-awarded hotels in the world. Hotel B is in the running for the same international recognition.
As a guest, you are meant to float around the hotel freely…to enjoy all areas, instead of just your room. At night, the patio terrace is candlelit, and there are plans to convert the rooftop into a large rooftop balcony. Right now, the library is a pretty cool spot for breakfast and high tea.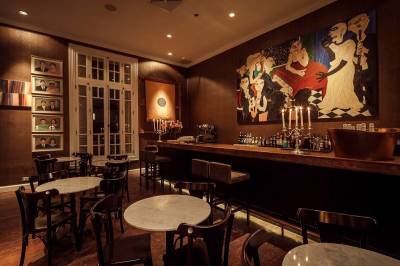 It has that true Smithsonian Society feel to it, as if you were indeed part of a club of treasure hunters and were expecting Indiana Jones to join you for a pot of tea and an English scone or an alfajor (to go in sync with the Peruvian 'lonche' or teatime). Included in your hotel room are the full contents of your mini bar although this does not include any alcoholic beverages.
Hotel B mixes the old and the new in a very refreshing way. In the old part of the 1914 house, the neoclassical rooms are furnished with modern design, whereas in the modern wing, designed by Peruvian architects Jordi Puig and Sandra Masias, the clean lines of the rooms are dressed with a vintage bed and bath.
If you stay here during your first night, you may be overwhelmed by the richness of Peruvian arts, be it the originals-a huge tapestry from the Paracas culture or a gem from the Cuzco School-or Peru's latest and most popular artist Elliot Tupac neon style paintings- all wrapped in good service and a warm atmosphere.
So if you're looking for an intimate stay in a wonderfully quiet part of Lima, treat yourself to some old fashioned luxury with plenty of new inspiration.
Traveling and writing are Barbara's lifeblood. She likes to travel for long periods of time or, when she can, she revisits, so that places become friendly, yet preserve a little mystery. Barbara wrote this article on behalf of Aracari Travel, specialists in providing personalized itineraries for luxury travel in Peru.