With the SS13 fashion weeks out of the way we can see that a style which has become very popular in recent years, the country style looks. Many equestrian inspired and country inspired materials and designs have made it down the catwalk during the London, New York, Pairs and Milan catwalks.
What have these catwalk taught us then? What are the best country looks and how do we go about creating them? There are a few rules you should stick to when going for the classic country style look. Firstly keep to a soft, neutral colour palette propels you into the luxury zone. Choose a cream blouse or navy coat, they are much more flattering and country looking than stark black and white.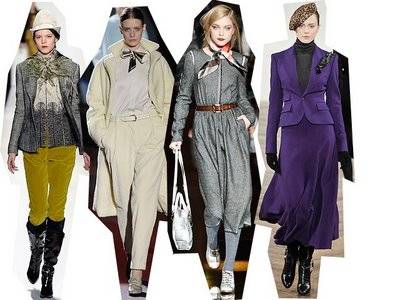 When you want a casual weekend look, work around a stylish gilet. Make it sheepskin and you've got the big fashion look at the moment. A gilet cleverly pulls separates together to give you endless variation. Whether it's a gilet or a coat faux fur, sheepskin, leather and suede are all major players for the country-meets-city look this season. Try mixing textures together and keep accessories to a minimum to not overpower your look.
The catwalks were also full of prints this season, which is great as these prints create a fantastic country look. If you love prints, then the choice is yours. From tiny traditional paisleys to punchy dramatic animal prints, they're a powerful addition to any winter wardrobe. Tone a bold-printed dress down with a long, chunky knit for that great in-between weather look.
Victoria Beckham has definitely brought back the trouser suit for women; a well fitted tweed suit is just about the most useful outfit in anyone's wardrobe. It's worth making a major investment in a tweed suit to get great style and cut. Wear the jacket with jeans for a dress-down day.