I'd forgotten that May 1st was fiesta time in Spain, so rather than a trip to the supermarket (closed), a visit to a local restaurant was in order. It's interesting to note the difference in quality and prices from the UK.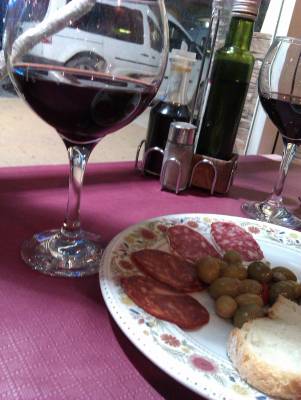 Our chosen pizza restaurant is very popular with the local Spanish here in Almerimar - always a good sign - and typical of the standard. The red wine, Rioja, was smooth and the food all freshly cooked and well presented. The service, friendly and quick. Without any doubt, the food and service were superior to Britain's average standard, but now check out the prices:
Tapas, comprising hams, olives, and bread: free
4 Glasses of Rioja: 9,20 euros
1 Dish of asparagus and salmon: 8,00 euros
1 Seafood pizza: 9,30 euros
2 Espresso coffees: 2,20 euros
2 Chupitos (honey and rum shot): free
Total: 28,70 euros
That's with the tax (IVA) included. We left a healthy tip, of course.
There's little to more to say, other than how ludicrous it is that many British visitors to Spain frequent British bars and restaurants to buy inferior food at inflated prices.
More insights tomorrow!
@jsmithwriter