What does the word 'chandelier' conjure up in your mind? For most of us, it's an image of a huge, cut-crystal light feature that is found in period homes and manors across the world. But chandeliers have moved on – they don't need to be old fashioned, and they look as stunning in a modern city pad as they do in a huge country manor. Don't believe me? Read on to find out how 21st century chandeliers can add a touch of contemporary style to any home.
Geometric styling
Modern chandeliers are works of art as much as they are light fittings. Gone are the Swarovski crystals – what's hot is hand-blown glass shades and geometric designs. They're still beautiful, statement pieces, but they are tailored to fit modern homes. When you're choosing a 21st century chandelier, you need something that sits well in contemporary surroundings – a chandelier which complements your exposed brick walls, dark wood flooring and minimalist white furniture.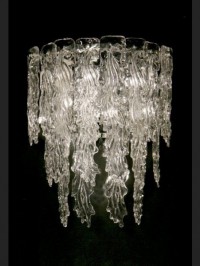 So, no crystals?
Nobody's saying you can't have a crystal chandelier in a modern home – if that's the look you want to go for then it can often look stunning! But modern chandeliers are all about different shapes. Ball shaped chandeliers studded with crystals are half disco ball, half light fitting – they spin and catch the light beautifully and are sure to become a topic of conversation. Chrome framed chandeliers with delicate crystal beading are perfect for bedrooms, adding a touch of light and glamour to any space without being overly-imposing.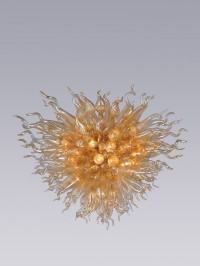 Go wild
Add some quirky style to your home with one of the more unusual modern chandeliers available. There are plenty out there, but knowing where to start can be tricky! Chrome ribbon pendant chandeliers look almost like those ribbons you stick on presents – really pretty and quite unique. Adjustable chandeliers which look almost like Medusa's head are stunning – a central light fitting hosts lots of long tendrils filled with tiny LED's, whilst central halogen bulbs provide the main light source.
Be bespoke
Of course, if you can't find the perfect contemporary chandelier for your city pad, it makes sense to have one tailor-made to suit you. Handcrafted chandeliers will add a very unique and special touch to your home, and are the perfect way to express your personality and sense of style.
No matter what type of 21st century chandelier you choose, this style of lighting is growing in popularity and is definitely here to stay.