This is Day 1 of my trip to Almería in the Andalucía region of Spain, or more specifically, Puerto Deportivo Almerimar where I'm staying on a yacht. Almerimar is a marina and golf resort area that you can learn more about in my article on the Travel With Mates website
It all sounds glamorous, but the yacht was built in the 70's and is in dire need of refurbishment, so the living conditions are decidedly basic. Nevertheless, the weather is generally dry with incredible levels of sunshine and beautiful light, so life on board is very agreeable.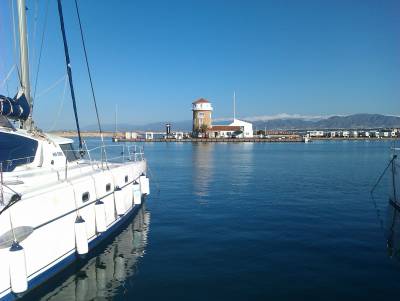 Over the next few weeks, I'll be reporting on the lifestyle, food, culture, and fashion out here. Times are economically dire in recession hit Spain, though it is not particularly evident in this area, since the local fruit and vegetable market is thriving. With that in mind, I'll be taking a close look at the food and drink, comparing prices and quality with the UK market.
Just before signing out for today, I ought to mention that the weather is not always idyllic here. There is furious heat in the summer, high winds, flash floods, and storms - an example being yesterday's flight when a flash of lightning and a bumpy approach to landing raised my heartbeat to an alarming level, and generated some panicked looks amongst passengers. This made all the worse in my mind by my recent viewing of the air-crash movie, Flight
Hasta Mañana
@jsmithwriter