3 minutes reading time
(587 words)
A guide to choosing the right dressmakers dummy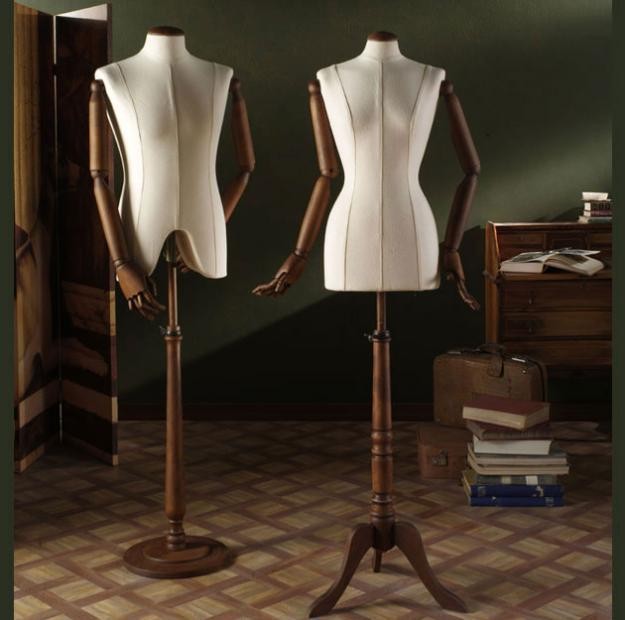 For businesses involved in dressmaking, couture or alterations, a good dressmaker's dummy is an essential piece of kit for designing, modelling, sizing and altering clothes. But with so many different types on the market, how do you choose the right one? Our handy guide will help.
Picking the right dummy
To pick the right dummy model for your business, it helps to know what your needs are. Those who sow for one customer, or a particular standard size, may be happy to use a standard dress form with a single set of sizes. Those who need to use a dressmaker's dummy for a range of clients will prefer to have an adjustable model, which allows adjustment for height as well as girth. Most good models will be adjustable for the dress form and have a minimum of eight sections.
Most professionals will also need an adjustable dressmakers dummy that is sturdy and easy to adjust. Twelve adjustable sections are the most common for those sewing exacting garments. A deluxe trouser form is also very useful for those making trousers.
Popular models
The K&L, available from Morplan, is the industry's best-selling standard model. Its dimensions are modelled on the female form, according to the UK's sizing definition and the dummy is made with a polyester body, reinforced with long lasting glass. The highest standards of production have been applied to ensure accuracy when pattern cutting and the dummy can be adjusted using the tubular steel base.
Adjustable dressmakers dummy
The K&L is also available in miniature scaled-down sizes, which saves money for dressmakers and designers, by allowing them to produce smaller-size samples and toiles. The dummy has a linen cover, with accurate seams and lines which are based on the UK's standard measurements. Again, the dummy is supplied on a wooden stand. These smaller size dummies are also popular with shop windows and exhibitions, for demonstrating techniques and work in progress.

For top quality dressmaker's dummies, the Morplan Tailor's bust forms are an excellent choice and manufactured using traditional techniques. The form is made from high-quality fibreglass with a linen cover. It is hand made to ensure perfect quality and stitch lines and will be serviceable for many years to come, with a robust wooden stand.

The Adjust-a-Bust is an excellent resource for dressmakers working from sizes 12 to 20 in the UK and the model can be adjusted to independently set sizes for hips and waist, allowing total customisation of the client's measurements by adding wadding, the belly plate or rolled fabric pieces. Sleeves can be checked with the hinged arm and the chrome stand is adjustable, with an elastic cover. The bust, neck, hips, waist, height and nape to waist are all adjustable and the dummy is easy to adjust, with graduations provided in imperial and metric measures. The body is lightweight and made of plastic, with a felt cover that is ideal for pinning. Additionally, female models are provided with in integrated chalk hem marker.

Hem markers can also be bought as standalone products and these blow a fine chalk line at the desired hem length, removing any need to pin. They work for any kind of material and can be adjusted in centimetres, with refills available.

Regardless of your needs, you will find the adjustable dressmakers dummy that you need from Morplan, at a price to suit. Having a good tailors dummy is just part of the equipment to make your designs a sucess, get the best portable sewing machine for your studio.

Main Image : Credit the Tailors Dummy.
Related Posts
Comments
I purchase all my mannequins from this website. Excellent range and fast delivery! Pretty cheap too
I purchase all my mannequins from this website. Excellent range and fast delivery! Pretty cheap too :D
By accepting you will be accessing a service provided by a third-party external to https://style-review.com/