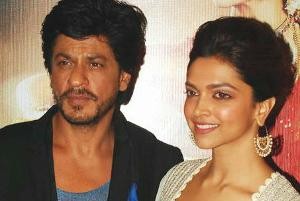 After Om Shanti Om, superstar Shahrukh Khan has teamed up again with Deepika Padukone for Chennai Express, an upcoming film. He says that he feels very protective and gentle towards Deepika. She started her career with Om Shanti Om with Shahrukh. With each and every film, this fantastic actress has kept growing. He feels very happy with her hit films in the past. Her work is being appreciated and he feels nice about this fact.
On her part, Deepika states that in Om Shanti Om, she has had a wonderful debut. In fact both she and Shahrukh Khan would keep saying that whenever they would do a film again, it would be as special as her debut film, Om Shanti Om. The next film, Chennai Express in which she has performed the role of a Tamil girl, also has been a special one too. The 27 year old actress, Deepika Padukone, states that working on the accent for the film Chennai Express has been quite challenging for her. She says that in the past she has been a part of many films with urban romantic comedy theme but she is playing the role of a Tamil girl the very first time. On 8th August, 2013, this Eid, the film is expected for release.
Anushka Sharma and Ranveer Singh to Become Friends Again!
Anushka Sharma and Ranveer Singh have decided to bury their past and become friends once again. In the past because of their alleged affair, they both had made headline and also had a bitter breakup. Now they want to be friends again by burying the past. Earlier both were not on talking terms. The peacemaker for them was Arjun Kapoor, interestingly. The rumor is that Arjun Kapoor and Anushka Sharma are dating each other these days.