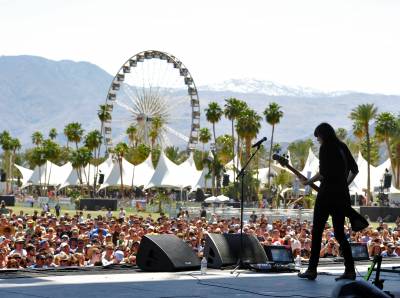 (Image Source - http://34st.com/wp-content/uploads/2013/02/coach.jpg)
As Coachella draws closer, we can barely contain our excitement! We all know that the festival season truly begins when weekend one of Coachella in is full swing and there's not much longer to wait with the first weekend launching on Friday 12th April. The weekend extravaganza will be fuelled with energising music from our favourite performers, beautiful Californian weather and fabulous fashion choices.
Held at the Empire Polo Club in Indio, California, Coachella is a festival unlike any other with a combination of many music genres such as rock, hip hop and electronic. From the outdoor theatre to the Gobi tent, the three day music and arts festival has a number of stages set up for various artists and acts to take to the stage. The festival displays established artists as well as upcoming performers and reunited groups. The likes of Jay Z, Swedish House Mafia, Madonna and Arctic Monkeys have all graced the stages of Coachella since festival was introduced in 1999.
Coachella is the place for real lovers of music and performances to gather and inhale the incredible atmosphere. However, for some it can be quite a distance to travel and be rather costly. If you are unable to attend the epic Coachella festival this time around, why not try and recreate your own festival experience in your back garden? With the right technology and equipment, you will be able to pull off an unforgettable evening in the comfort of your own home.
If you have been to a festival before or have watched one live from your TV set, then you probably left feeling inspired and motivated by the music and atmosphere. If this is the case, try reaching out for an instrument or some DJ equipment and learn some skills to entertain your friends and family.
Find a full range of quality sound equipment from Phase One.