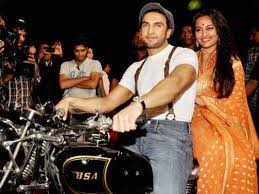 Ranveer Singh Gives Real Emotion By Enduring Pain In 'Lootera'
Everyone was shocked to see Bollywood actor Ranveer Singh on the sets of Lootera. For one particular scene, he gave real emotions by actually hurting himself. He was supposed to show that he was in deep pain for a particular sequence. So he took a safety pin and started piercing himself repeatedly to give that particular shot, reported a source.
Members of the unit as well as the director himself were against this extreme step, however Ranveer kept arguing that the scene was really poignant and the pain caused by the piercing of the safety pin helped in boosting his performance. On the edit table, when his performance was seen by the team, they were convinced that the scene would surely touch the audience's hearts. SonakshiSinha pairs up with Ranveer Singh in the romantic film Lootera directed by Vikramaditya Motwane.
Is Shahrukh Khan Getting Very Protective About Priyanka Chopra These Days!
Everyone is wondering whether the relations between Priyanka Chopra and Shahrukh Khan have reached the next level! A news article had released the information that both of them were quite serious about their relationship and are even dating each other. As reported in the daily it seems that many of Shahrukh's friends are not too happy about this friendship, and hence he has started maintaining a distance from those friends. Shahrukh is not ready to listen to any word spoken against Priyanka, and is so protective about her that he has made this clear to everyone.