3 minutes reading time
(632 words)
How Much Do Tongue Piercings Cost? Celebrities' Tongue Piercing Guide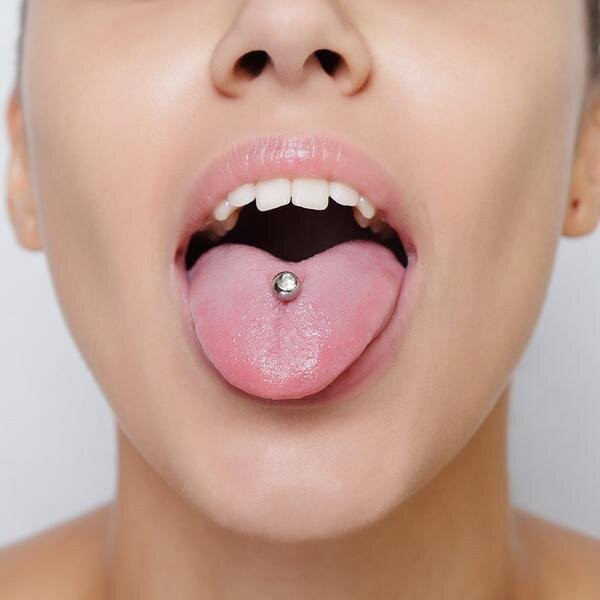 Tongue rings not only make you look glam but add a new dimension to your personality. You can look uber cool and chic with a tongue ring piercing. From Drew Berrymore to Ariana Grande and Shannon Harris, these celebs got their tongue pierced and bought tongue piercing back in vogue.
Evan Rachel Wood got her tongue pierced, and she received loads of compliments for her style. Zara Phillips is yet another celeb who flaunted her tongue-piercing style with great confidence. Are you planning to get your tongue pierced? Many tongue rings that are customized will enhance your look.
The two most popular options in tongue rings are - standard titanium or special Teflon coating titanium. The price depends on the type you choose. But the average cost will differ from the style you choose for piercing.
Many celebs have opted for a diamond crystal piercing style. The cost of which can be expensive depending on the size you choose. The normal cost of tongue rings can range from $30 to $100. The higher cost is for rings that are made from exclusive metals. Diamond rings may cost extra than the regular ones available.
The added pricing plan
Most studios offer different piercing plans for tongue rings. You will need to pay attention to the pricing plan when you get a tongue piercing. Some studios charge flat fees for basic jewelry and waive off the piercing charge.
But, they can calculate based on the piercing and jewelry style, and the cost can be extra. It also depends on discounts and offers on the piercing. Festive discounts can provide you with a cheap rate. So, you can get your tongue pierced during one such offer. It will help you to save some extra money on tongue ring piercing.
Who can't get tongue pierced?
If your tongue is short, tongue rings may not be an ideal thing for you. At times, a vein may also interfere with the tongue rings. So, if you have a vein that is placed in the position of the piercing, you will be rejected.
People with health conditions or nerve issues are often rejected. A medical problem may cause some side effects later on. Also, most things depend on the piercer.
After examination, if the piercer feels that you can get a tongue ring, there is no harm in getting one. If you have any other health issues, you can also talk to your doctor before getting a tongue ring.
Tongue Piercing Infection
One of the most common misconceptions about tongue piercings is that each and every individual having a tongue piercing would get infected at some point in time. Your mouth is a huge hub of bacterias and it is very easy to get infected because of this. But if you look after oure piercing correctly and clean it regularly, it's unlikely to get infected in it.

Tongue Piercing Styles
Tongue piercing styles look great and are reliable. Depending on the tongue ring you choose, you will have to pay for a piercing. Apart from personalizing your appearance, the ring will give you confidence.

Remember to research the tongue rings and styles when you want to get pierced. It is important that the studio you choose follow hygiene standards. Most celebs swear by tongue rings to look fabulous. If you think you are bold and daring enough, go and get yourself a tongue ring.
I hope this complete guide and tips would work in your favor! So, what are your thoughts about getting a tongue piercing? Leave me to know in the comments below and let us have a discussion on that.
Comments
No comments made yet. Be the first to submit a comment
By accepting you will be accessing a service provided by a third-party external to https://style-review.com/