3 minutes reading time
(590 words)
Adorn Your Look With These Fashionable Shawl Scarves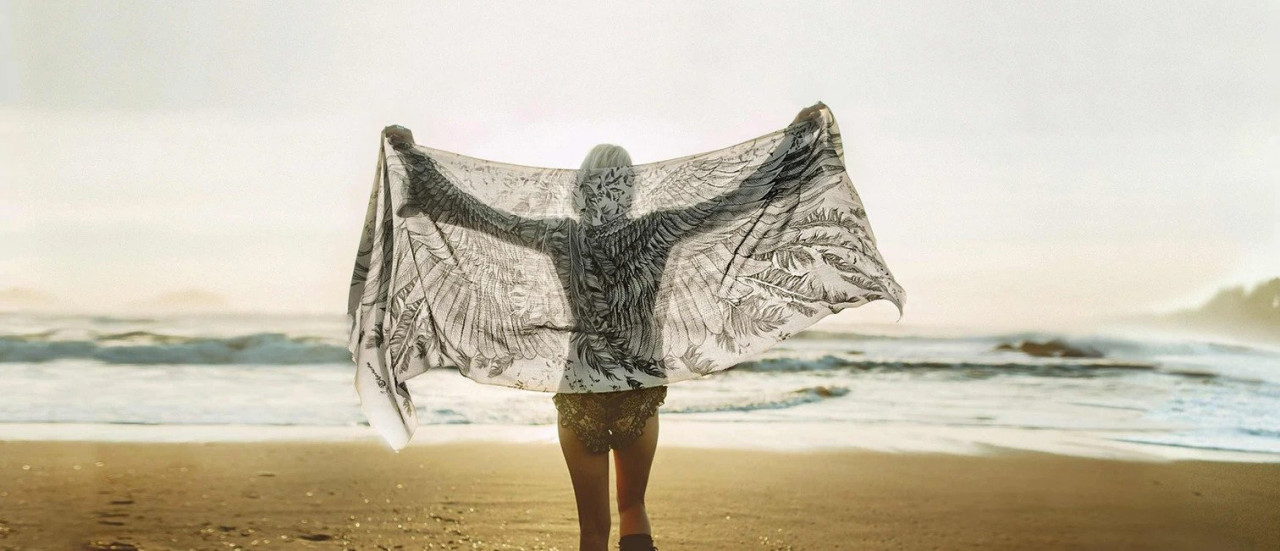 The way you style your clothes says a lot about your personality. An elegant piece of clothing will always make you look classy. There are so many accessories and shawl scarf options available today that you'll be spoilt for choice.
The shawl scarf styles will give you a kind of makeover and make you look sexy. Shawl scarf styles are in vogue this season so you must incorporate these styles with your clothing. Personalize a shawl scarf you love and get loads of compliments on your styling.
If you dare to be different, then adorn your look with fashionable shawl scarf options.
How is a Shawl Different to A Scarf
A shawl is larger and more squared and is designed to be worn around the shoulders. A scarf is designed to be wrapped around the neck and cover the shoulders but is longer and thinner in form. Now 'shawl scarves' can be seen mixing the ideas. Let's take a look at some.
Snow Leopard Shawl Scarf
The design of the scarf is simply amazing and it highlights the true essence of the scarf. Snow leopard scarf depicts self-reliance and determination. It features a digitally print design that enhances the beauty of the scarf.
It's made from cotton fabric and is highly comfortable when adorned with any dress. The charcoal and cream color hints make this piece look striking. The scarf has a neat finish with two-way edges that make this scarf look even more beautiful.
You can wear this shawl scarf with any maxi style dress or team it up with your casual look. It'll look divine and wonderful.
Blue Wing Shawl Scarf
Blue is the royal color and its the color that'll make you look elegant. Blue is the most preferred choice when it comes to fashionable and designer scarves. This shawl scarf is a combination of white and blue and depicts true freedom.
It can be teamed up with any color dress but if you team it up with a white maxi dress, then it'll look even more wonderful. As it is made from cotton, the fabric is breathable and comfortable. The shawl scarf is delicate, light, and super soft in texture. You'll be able to see every hue of watercolor in the shawl scarf. Do add this one to your collection.
Day Owl Shawl Scarf
Owl scarves are still the most preferred scarves by women due to its bold print and designs. The day owl shawl scarf inspires you to seek new adventures and dream along. The detailed print design is a perfect accessory for your casual outfits.
As it is made from cotton fabric, it sits pretty well on any dress style. The best part about this scarf is it drapes well with any kind of outfit. So, you can wear the day owl shawl scarf with your tees, denim, or summer dresses. The stunning and earthy shades of the shawl scarf look amazing. This scarf can be teamed up with any color dress.
Sublime Shawl Scarf
The shawl scarf is great for women who like to keep it simple. The beautiful pallets of blues and teals are spring inspired. The fabric is super comfortable and the design is pretty. You can wear this shawl scarf with any casual outfit to highlight its look.
Wrapping up,
There are so many shawl scarf options available so you have a wide variety to choose from. The scarves perfectly enhance your style and make you look elegant at the same time. Take your pick and flaunt your style.
Comments
The Best fashionable shawl scarf options.
Fantastic Fashionable Shawl Scarves.
By accepting you will be accessing a service provided by a third-party external to https://style-review.com/