4 minutes reading time
(789 words)
4 Reasons Why You Want a Sarasota / Bradenton Beach Wedding
If the sand and surf are calling your name when it comes to your wedding, there are many venues throughout the U.S. to choose from. However, not all beaches are created equal, and there are none so beautiful as the ones that line the shores of Sarasota and Bradenton, Florida. From private beaches with pure, glittering white sand to stunning sunset views of Sarasota Bay and the Gulf of Mexico, these beaches are the perfect backdrop for any beach wedding. From Lido Key to Siesta Key, there are four main reasons why this coastal city has everything you need for the beach wedding of your dreams.
1. The Wide Selection of Beaches
Sarasota boasts a large number of beaches that range from private to public, and no matter what type of beach setting you're looking for, you'll find it in the Sarasota Keys. From Greer Island Park, which has secluded beaches hidden away near the Longboat Pass Bridge, to the Lido Key beaches that range from those with snack areas, picnic tables, and trendy shops to those that are completely secluded, you're sure to find a beach that suits your ceremony's theme. Keep in mind that some of the more secluded beaches, especially those that are on Greer Island Park, can be a challenge when it comes to public access and parking, so this is something you'll have to deal with if you choose a beach in this area.
2. The Selection of Beachfront Resorts
If you want to add five-star service to your beach wedding and accommodate your guests in the best way possible, then a beach wedding in Sarasota is the right choice, thanks to the huge number of resorts in the area. Whether you want a room with a balcony and a commanding view of Sarasota bay or a beautiful open-air locale in which to have your reception, you can find them all here. There are a number of resorts that will even assist you with your wedding, providing you with affordable wedding package that include everything you'll need for your beach wedding and the reception, including food and access to quality sounds systems so that you, your, spouse, and your guests can dance the night away after the ceremony.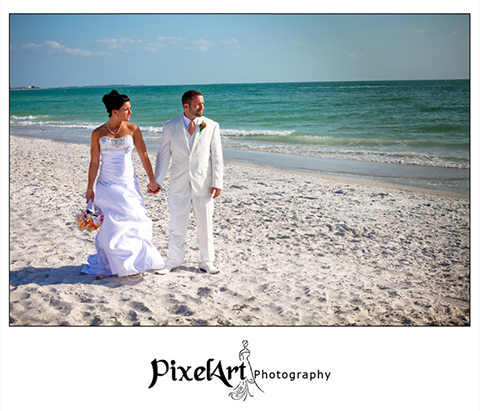 3. The White Sarasota Sand
One of the things that make a Sarasota Beach wedding so magical is the area beaches' white sand. All of the beaches, from Siesta Beach to Turtle Beach, feature the soft white sand that has made them a famous wedding destination for years. Whether you're planning a casual wedding or a traditional wedding with all the trimmings, the white sands of these beaches make the perfect naturally-themed backdrop to it all. There are few things more elegant than a bride dressed all in white, crossing sand as glittering as her dress is in order to meet her groom, and the sparkling beaches also make the perfect locale for the wedding party photos as well.
4. The Affordability and Variety of Beach Wedding Packages
No matter what type of beach wedding you're planning, there are a large variety of Sarasota beach wedding packages to choose from, from private wedding planners who specialize in beach weddings to large resorts that offer wedding and honeymoon packages that include everything you'll need to create your dream wedding. Many of these packages are affordable and are made to suit a wide range of budgets, from frugal to extravagant, and you may be surprised about the affordability of some of the packages you discover. If you know that you want a beach wedding but you're not sure where to begin, there are dozens of wedding planners in the area that specialize in beach weddings who can bring your visions to reality. There are plenty of excellent vendors in the area. You can find them by searching for wedding photography Bradenton for example. Many great options in various price ranges should be listed.
From the fairy-tale setting of its white beaches to the breathtaking views of Sarasota Bay, a beach wedding in Sarasota can offer you everything you've ever dreamed of. Couples from all walks of life have enjoyed a wedding on these magical beaches, and now you can too. There are many reasons to choose a beach wedding in Sarasota, but no matter the reason you choose, it's guaranteed to create beautiful memories that will last a lifetime.


Author Bio: Suka Sung Wilson is a full-time web content developer with over three years' experience in writing for the Web and to date has written over 2,500 different articles over a wide range of topics, from travel to health care to women's issues. He currently lives in New Mexico with his family and a variety of pets.
Related Posts
Comments
The way you described the wedding is amazing. It's not about the party here two-family combines together with rituals and ceremonies.
I also write wedding blogs
You can check my website also https://www.ultimateevent.in

The way you described the wedding is amazing. It's not about the party here two-family combines together with rituals and ceremonies. I also write wedding blogs You can check my website also https://www.ultimateevent.in
By accepting you will be accessing a service provided by a third-party external to https://style-review.com/