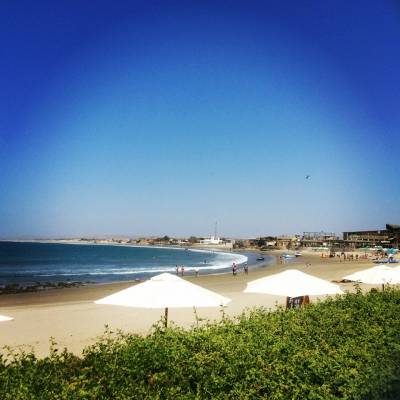 By Marianne Comilang
(all photos also by author)
With year-round sunshine and blue skies, the rolling waves of the Pacific Ocean and kilometres of golden sand, Máncora is quickly becoming one of Peru's most popular destinations. Located in the country's northern coast, Peruvians and foreigners alike are now flocking to this small seaside town to enjoy some fun in the sun and, of course, fresh seafood.
Máncora proper is small and easy to navigate, with one main road that parallels the coastline. You'll find most of the restaurants in one of these two locations. Suffice to say, it doesn't take long to discover the area's best places to enjoy a great meal.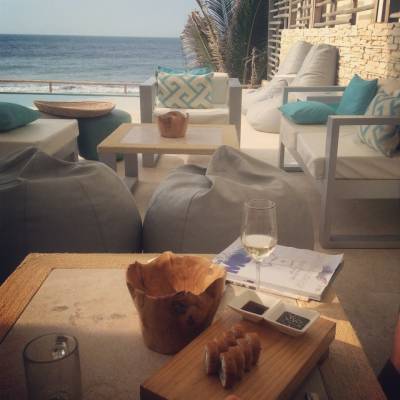 DCO Restaurant at DCO Suites, Lounge and Spa (Playa Las Pocitas)
Starting a little further south along the coast (2 km from the centre of Máncora), the less-populated beach "suburb" of Las Pocitas, or Mancora Chico, is where you'll find many of Máncora's upscale resorts, including DCO. A modern and sophisticated boutique hotel, DCO also houses a stylish ocean-view bar and restaurant where it is far too easy to while away the afternoon, sipping cocktails, snacking on maki rolls and watching the whales go by (if you're lucky enough to be around during the whale migration). The service is exceptionally friendly and attentive. On a recent visit, we were even gifted tasty little cupcakes fresh from the oven! A light meal for two including cocktails and a tip costs around S/.155 ($53 USD).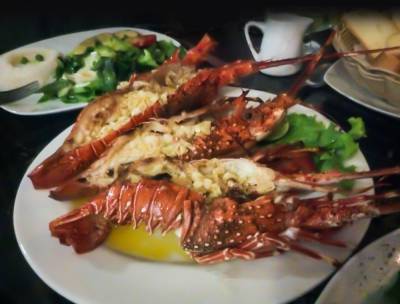 Aqua (Avenida Piura 233)
Located at the end (or the beginning depending on which way you came in) of Máncora's main drag, otherwise known as the Panamerican, this casual Mediterranean-style bistro is one of the best places in town to enjoy fresh seafood. If you happen to be around when lobster is on offer, take advantage of the opportunity. Nowhere will you get a lobster dinner for two (including side salad and rice) for only S/.70 ($23 USD). If lobster is not available, there is a wide range of delicious seafood to choose from including traditional Peruvian ceviches or their very popular tuna dishes. Top it off with a decadently delicious chocolate brownie for dessert. You won't regret it. Dinner for two at Aqua including a glass of wine or bottle of Cusqueña plus tip is a steal at around S/.120 ($41 USD).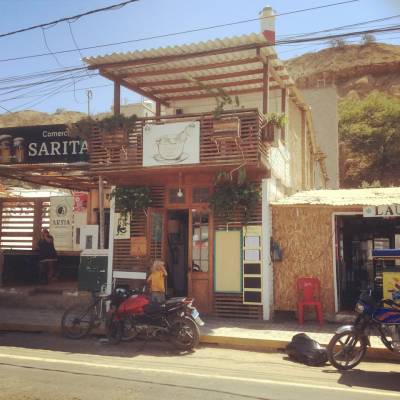 Sirena d'Juan (Avenida Piura 316)
This charming two-level bistro stands out on a strip of mostly mediocre dining establishments. It's very easy to find. Just look for the mermaids. Contemporary bohemian décor combined with delicious seafood make Sirena d'Juan a favourite among Máncora's trendy and chic. Think classic dishes with a modern twist. A simple green salad is kicked up a notch with the addition of caramelized pecans and grilled tuna.
House-made ravioli (there is a whole section of them on the menu) is given Peruvian flare stuffed with yuca (an Andean tuber) and covered in a creamy cheese sauce infused with local herbs. Thai-style shrimp curry with coconut rice round out an international menu. On a balmy evening, the upstairs terrace may seem like the perfect spot. But be aware that being street-side means you are in direct earshot of all the passing cargo trucks and cars. Dinner for two including a glass of wine or bottle of Cusqueña plus tip costs around S/.145 ($49 USD).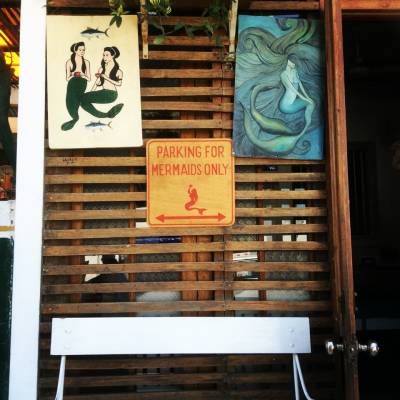 Also worth mentioning is Sirena d'Juan's sister establishment, Sirena Café (Avenida Piura 336), located just down the street. Here, the vibe is cafe casual. Enjoy a cappuccino or cocktail on the small ground-floor patio before heading next door to the Sirena boutique for some retail therapy.
For a small beach town that caters to so many different budgets, Mancora has an impressive array of dining options for those seeking a little more sophistication, with the focus being seafood, of course. And when the seafood is this good and at such great value, be sure to take the opportunity to enjoy as much of it as possible!
Marianne Comilang is an adventurer filled with wanderlust. Originally from Toronto, Canada, she traverses across continents and can proudly say she has set foot on every one (except Antarctica). If she isn't writing, editing, and strategizing to make others look good, she is probably teaching yoga or posting on her blog MoveStillFree.com. She wrote this article on behalf of Aracari Travel, specializing in gourmet and luxury tours all over Peru.