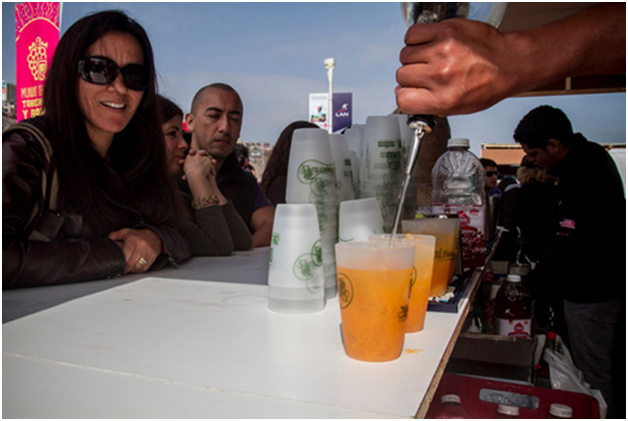 By Andreas Ambarchian
With a huge variety of national and local dishes, food is a major part of Peruvian culture. The annual festival of Mistura celebrates both the rich heritage and taste of the delicious food on offer.
History
Peru's flagship food festival started in 2008, founded by the Peruvian Association of Gastronomy in partnership with Peruvian cuisine's most famous exponent, internationally renowned chef Gaston Acurio. In its first year, the fair was held in the coastal district of Miraflores and was known as Peru Mucho Gusto. However, the following year brought with it a new location, the Parque de la Exposicion in Central Lima, and a new name, Mistura. The fifth edition of the famous fair was moved to the district of Jesus Maria and, in 2013, it was held on the Costa Verde in Magdalena del Mar.
Entrance
Tickets for Mistura are available outside the gates from the type of unlicensed vendors that one might typically regard as a tout. To the uninitiated, it can be a little unsettling go about your business in this manner but these apparently insalubrious salespeople do offer standard prices. Just to be on the safe side, it is perfectly acceptable practice at Mistura to only pay for your ticket once it has been verified as genuine at the gate. Prices do vary from year to year and even day to day in the same year. In 2013, entrance prices ranged from 15 soles to 30, depending on the day and time.
The opening day of the inaugural Mistura attracted around 3,000 visitors but this figure is much higher now, with around half a million people in all attending in 2012. Inside, the huge scale of the event is evident, there are scores of stalls, huge, colourful marquees and endless streams of people. To help get around, maps are available for free on entry. As well as food huts and demonstrations, there is musical entertainment and dance performances.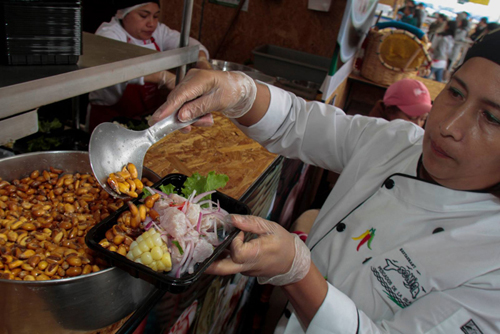 Buying food and drinks
Peruvian systems are abundant in Mistura. On top of the entrance fee, visitors must also pay for their food once inside. This must be done with Mistura vouchers, available at booths inside the festival. In the past, some booths were accepting cash but in 2013, this was definitely not sanctioned by the festival organizers. Only water and Coca-Cola could be purchased with currency, and the franchise paid a high premium for this ability.
It's also useful to note that whether using vouchers or cash, customers will normally have to queue for a food ticket in one line before being served in a separate line, a little confusing at first, but certainly worth the trouble once the food arrives.
Cuisine
As a national food festival, Mistura brings together all the regional delicacies from around Peru. One of the nation's most famous dishes is ceviche, a coastal specialty of lime cured fish. Chifa, a mix of chinese cooking methods and Peruvian ingredients, is another national favourite. For those wanting to satisfy both curiosity and hunger, there is the Andean delicacy of guinea pig, while the exotic taste of the Amazon and the satisfying simplicity of street food are also available at Mistura.
Andreas Ambarchian is a freelance journalist from England. He writes about a variety of subjects including travel, wildlife and sport. This article was written on behalf of Aracari Travel, specializing in providing luxury tours to Peru.