A fusion of style and sensibility these are the rubber equivalents of Jimmy Choos.  No country fashionista's wardrobe is complete without a pair and with festival season coming up fast your very own Hunters are a must-have too.
Achingly cool in an unlikely kind of a way for footwear made out of moulded rubber, who can forget Kate Moss working hers with a pair of cut offs and glamorously mud splattered legs at Glastonbury, causing an unprecedented rush on countrywear retailers across the UK? Because as with the best style setters, where Kate goes the rest of us follow, keeping our fingers and toes crossed that we too can step out looking like goddesses in the combination of practically no clothes and a pair of wellington boots.  
And it is not only us non celbs who try to emulate the fashion forward Miss Moss. The list of Hunter crazy females reads like a Who's Who of Hello, with the uber fab Lily Allen and groove chick Pixie Lott amongst them. Everybody loves Hunters. 
But fashion aside for a quick moment with mother, as a bit of a country puss myself I can lay testament to their enduring comfort and fit. Unsurpassed in the world of wellies, Hunters have this gloriously soft spongy interior, fitting your feet like a sensuously padded glove. And they go on for years and years. Durable as, um, tyres.  
So which do we love best? I particularly adore the black argyle with its red top edging.  Imagine how gorgeous these would look rocking at V teamed with a pair of hotpants and in my case a bit of airbrushing. Or for a deeply country girl kind of a look you could go for the originals in green, edged up with some black coated skinny jeans for maximum sex appeal. Alternatively I am loving the fuschia pink version for a hit of this season's candy coloured cool. 
 http://www.uttingsoutdoors.co.uk/Product/142/100351/hunter-wellies-argyll-ladies-wellington-boots-black-w23104black/
 http://www.net-a-porter.com/product/34300?cm_sp=we_recommend-_-34300-_-slot2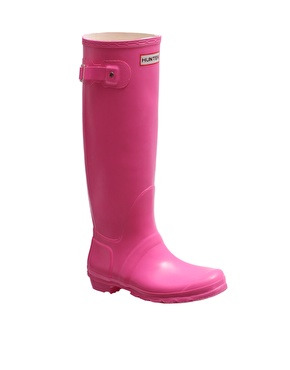 http://www.asos.com/Hunter/Hunter-Original-Wellington-Boots/Prod/pgeproduct.aspx?iid=306479&cid=4816&sh=0&pge=0&pgesize=20&sort=-1&clr=Fuschia