3 minutes reading time
(684 words)
How to Make Your Bedroom the Coziest Place in Your House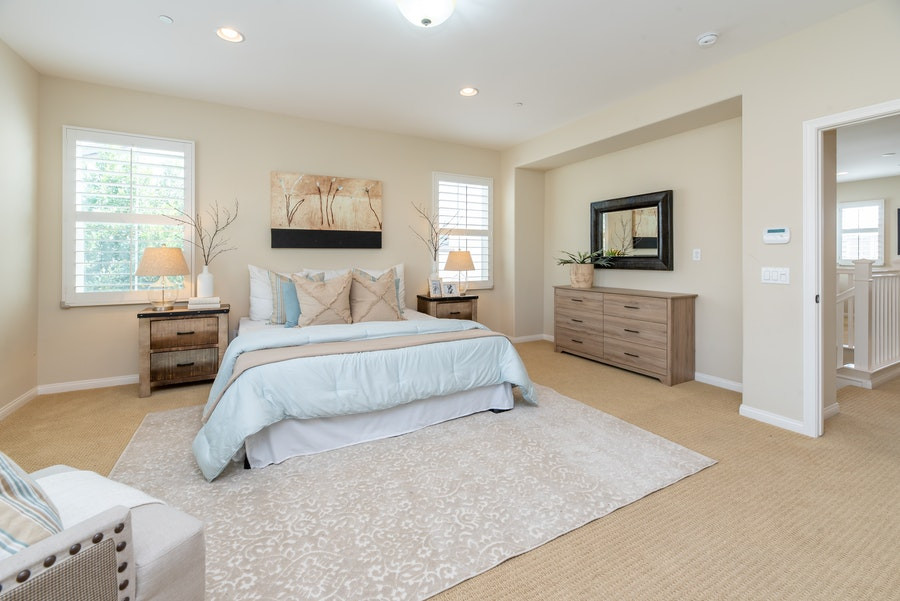 Our bedroom is the place where we should feel the most at ease. Making it a true oasis of haven will allow you to get enough rest at night and enjoy its ambiance during afternoon rest time. Making your bedroom cozy and inviting will require some effort a lot of creativity and redecorating. With the following tips, you will make your bedroom the coziest nook in your home.
Think about the color scheme
Colors can make or break the interior design. Furthermore, the combination of wall colors, furniture, and other accessories can significantly impact the vibe your room will have. For a calming and relaxing effect, you should go with neutral, pastel, and earthy tones. White walls, dark wood furniture, and a few lush green plants in the corners of your room will make you feel like in a real Zen retreat. The color of the room also has a huge effect on your mood. Therefore, to bring in natural, soothing, and vibe filled with wealth and balance, consider painting the walls pastel green. Furthermore, to promote relaxation and make the room look super cozy, you can also opt for soft blue tones.
Fluffy furry bedroom furniture and accent pieces have that power to make you want cozy up against them and never leave. That's why your bedroom needs a big fluffy faux fur throw cover over the bed. That way, even when you're not ready to sleep, your bed will look warm, cozy, and adorable. Soft blush pink plush pillows on top of your fluffy bedspread are all you need to have an inviting and relaxing bedroom interior at all times. You don't have anything fluffy nearby? Just layer up blankets and get an instantly eye-catching point in the room that will look beyond comfortable.
Many people easily overlook the importance of floors and carpets in a bedroom. Having the right size, shape, and color of the carpet is essential for achieving the desired vibe. That's why you should make sure you have at least one carpet match the rest of the room décor. You should look for popular textures and patterns at a carpet warehouse and pick out the top-quality one that will be the best for your room interior. Not only will you have a carpet that will look beautiful and inviting, but you also won't have to worry about replacing it for years.
Layer carpets for extra comfort
Another trick with carpets that will allow you to have a cozy-looking room is to section them around the room strategically. A plush area rug on the side of the bed to make you feel warm and cozy upon getting up is one option. Not only will a plush area rug offer practical warmth, but it also adds an extra texture. If you have a sofa or an armchair next to your window, consider adding softness by placing a small sheepskin or shag rug in front of it.
Add multiple lighting for a cozy ambiance
Lights can be very powerful at helping you set the desired mood in a room. If you have a canopy bed, for instance, you can hang string lights all over the banisters. Turn them on at night to set the mood and get the perfect tranquil ambiance. Install dimmer switches so you can set the intensity of the light as needed.
Window treatments to add character
Did you know that window treatments can also have a big effect on the way your bedroom looks? Namely, depending on the window treatments you place, your room can look dark, light, repulsive, or inviting. Not having any curtains will make the room look cold and bare. What you want is completely the opposite, so introduce warmth and inviting vibe by adding curtains in simple colors and patterns.
Final thoughts
Creating a cozy bedroom has never been easier. All you need is a few plush and fluffy items, top-quality rugs and carpets, and a little bit of creativity. Everything else will come to you naturally, and you will create the gorgeous décor that you will love relaxing in.
Comments
No comments made yet. Be the first to submit a comment
By accepting you will be accessing a service provided by a third-party external to https://style-review.com/