We have all been there. We have all faced the horror of our own in reflection as we try on our old bathing suit from the year before. Something must have happened to the material over the long cold winter because that bathing suit that fitted you so perfectly last summer is now looking a little tight. Not only is the suit cutting off the circulation in your legs, but it just looks old. Styles do change and they change very quickly in the world of swim suits. There is no way that you can go to the beach in that worn out old suit. You are going to need a new one. Don't stress out over the idea. It's not that big of a deal. In fact, these tips will make the whole process that much easier.
The Styles Benefit You
Most people run for the hills when they hear the words, "bathing suit shopping." Who knew that these three words could cause such panic, stress and anxiety? It may seem like your body underwent some sort of transformation during the winter months. The good news is that there are plenty of great beachwear styles to choose from.
Companies who manufacture bathing suits know that everyone needs one and they make a multitude of styles to fit just about any person regardless of their shape or budget. There is a suit out there for you in a style that will fit your body perfectly. Go forth and claim your new bathing suit before someone else does.
Use A Guide
There are no swimsuit guides out there, but you will most likely have the next best thing sitting at home. Women can use some lingerie to give them a good idea of what a new suit may look like and men can use their under shorts. Try them on and take a look in that full length mirror. Don't worry about what you see. You are just using this as a guide to help you determine which style of suit will be right for you.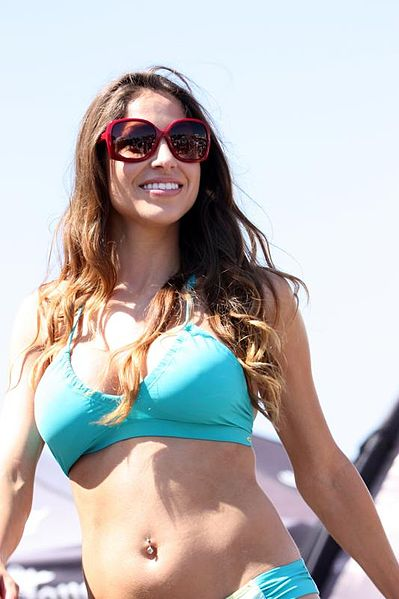 Choosing the right beachwear is easy. Image credit: wiki commons Michael Dorausch from Venice
Highlight the Good
The key to the right bathing suit is choosing a suit that will highlight the finer points of your body. If you can keep the attention on the good spots, no one will even notice the other areas of your body that you are not so happy with. If you have a fabulous bust line, then make sure you accentuate that by choosing a bathing suit that shows it off. People will never even take note of anything else. Why do you think bathing suit designers make bathing suits specifically for this purpose? Bathing suit designers know all of the tricks of the trade.
There is no reason to fear shopping for a new bathing suit. If you follow these tips, you will have no problems finding that perfect suit and looking your best this summer.