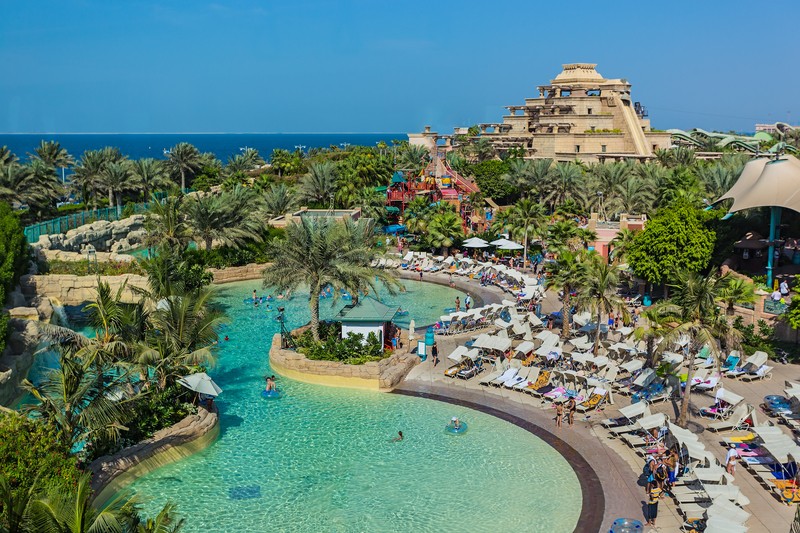 Waterparks


There are two to choose from, both offering an action packed day out with a variety of features. We personally chose to go to the Aquaventure, located within The Atlantis Palm resort, as it was closer to our hotel and gave us the opportunity to see part of The Palm up close, as well at the renowned Atlantis Hotel. The other park is called Wild Wadi.

We booked our day out through our hotel's Tour Manager, for a slightly reduced rate of 260 Dirhams each, which included entry into the aquarium (inside the hotel) called 'The Lost Chambers'. I would advise pre-booking, as it really reduces your wait time when you arrive. *Note that transport is not included, but from JBR a taxi costs around 40 Dirhams, so is relatively inexpensive.
Lockers can be hired for 40 Dirhams, with the small locker being perfectly sized for a large rucksack and small handbag. If you are travelling with a member of the opposite sex, then you will need to decide which of you has the locker wristband, as the locker rooms are split for men and women. The wristband issued has a barcode on it, which when passed across the reader in the centre of the lockers will designate you a locker number. It will then open that locker and once you have loaded it, you push it to lock it. All very straightforward and efficient – plus the air-con in that room is a real bonus for a few wonderfully cool minutes!
You can hire towels there for a nominal fee, but we took our own as we were going door to door by cab, so it really was not a hassle.
The rides on offer cater for all, with everything from the lazy river, rapids and torrents, a near vertical drop slide and several tube slides with a mix of twists and turns and total darkness. If you are there for a full day, you would easily be able to do everything more than once. We went in August and did exactly that, plus spent most of our time 'commuting' from ride to ride on the lazy river.
One tip – find a sun lounger by one of the lagoons as soon as you arrive and leave your towels and any other non-valuables there. It gives you a base to return to and catch your breath for 5, or to sit and eat an ice-cream/have a drink or to have some time relaxing in the sun.
Another tip – if you choose to buy one of the refillable drinks cups, note that only the larger food outlets and restaurants can refill them. The smaller kiosks do not, which was a bit of an annoyance in 45 degrees when you're THIRSTY!