3 minutes reading time
(636 words)
How to Make Your Backyard a Perfect Zen Oasis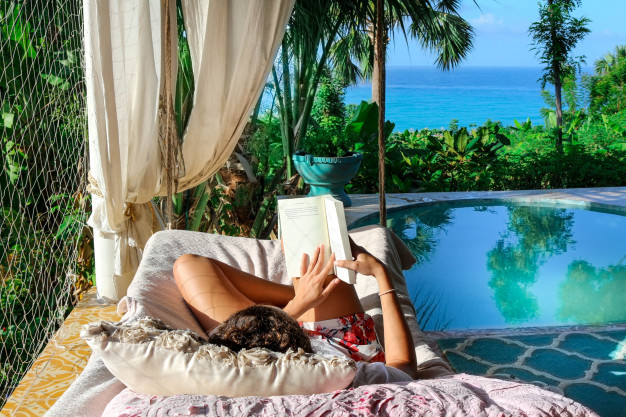 Ok so your backyard isn't probably like being in a resort! But it can be a place of equally relaxing bliss.
You need a place to rest and you need it right now, and one that does not require a plane to fly to an expensive resort. Why not turn your gaze to your backyard? No matter how small it is, arranging a backyard can turn it into an amazing outdoor oasis. Check out some tips and tricks to help you create the cosy retreat you need.
Create a relaxing backyard atmosphere with music
The atmosphere matters a lot. You want to feel like you're on vacation, you need a place to hide from the world (and pesky, nosy neighbours). Creating a relaxing corner to rest in is an essential element of your backyard hideaway. In order to turn your backyard into a place of retreat, you should think about the soothing sounds of music. Imagine your favourite song floating in the air while you sit and sip wine from a glass.
There are many open-space speakers available to help your music sound outside your home. This can be a simple wireless speaker or a complex stereo system. There are even wireless, all-weather speakers that look like rocks. If you can't find a speaker system, then at least add a fountain or waterfall that will help drown out the outside noise. Whichever technology you choose, make the quiet sounds in your yard drown out all your daily annoyances and worries.
Find lighting for your yard
Adding glowing lights to your backyard seating area can create a warm, welcoming atmosphere. Lighting can be added with candles floating in the pool basin, solar landscape lighting and chandeliers that hang from an awning or pergola. Avoid harsh point lights and bright neon LED lights — they will only strain your eyes and will not relax you at all.
You can also take advantage of the new outdoor paints that create a wonderful evening glow after exposure to sunlight. These paints can be applied to outdoor plant pots or rocks, lighting up the night in a whole new way. Create a romantically lit oasis with multiple light sources in your backyard.
Comfortable seating
It seems obvious, but comfortable seating is essential in your backyard oasis. Whether it's a hammock, a porch swing, or a reclining r chair, you need a comfortable place to sit and relax. It is also very important to have good outdoor decking where you can put your furniture. Look at home for cushions, tables, rugs, chairs, lamps, and even art to carry into your yard. There are also many outdoor fabrics that mimic fabrics for the home — consider replacing the upholstery of your home chairs with sturdy but pretty outdoor fabrics that would allow the chairs to be taken out. A cosy chair is always the perfect accessory for your backyard seating area.
Add a fountain or waterfall to your backyard
The soothing sounds of pouring water can wash away all worries, leaving you relaxed and full of zen. There are many ways to add a fountain or waterfall to your oasis. It can be as simple as adding a small fountain that will be on a patio table, or it can be a huge project like installing a bubbling fountain in a pond or backyard pool. Either way, the sounds of the water will fill your ears and add a calming element to your relaxation area.
Conclusion
No matter how large or small your yard is, you can add music, lighting, seating, water, and privacy to it easily. An oasis in the backyard is not an unattainable dream, it can be created by following some instructions above. If you manage to realise them all, then consider it as a luxury bonus — and voilà — you have an amazing oasis in your own backyard.
Comments
No comments made yet. Be the first to submit a comment
By accepting you will be accessing a service provided by a third-party external to https://style-review.com/