Are you looking for that perfect costume? Do you like to dress up in festive attire over the holidays? Whatever your interest is, you can celebrate the season by creating a Christmas costume yourself. The Christmas costume may represent anything related to the winter season or the holidays that you love; the hot apple pie to those stockings that you see on the mantle. You can be very creative when it comes to your Christmas costume ideas. Here are some to get you started.
Cute Santa Costume
Christmas Tree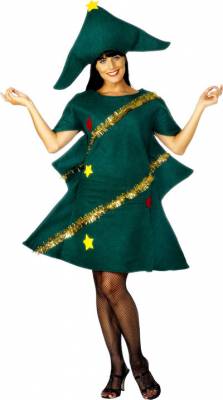 A costume made to resemble a Christmas tree can be great idea. You can pick up the things that you need for making the costume from any local store or a craft store. Some of the things that you need to have are green felt sufficient enough to cover the body from shoulders to toes two times, several felt squares in varied colors, some Christmas garlands that can be used for Christmas tree trimming and a party hat that has a conical shape. To make your Christmas tree costume, first cut out a hole at the center of the green felt using a pair of scissors so that you can slip over your head. Trim the ends and sides of the green felt, after slipping it over the head, to make sure that it is not too big for you. You can make use of the excess fabric to decorate your party hat to form the top of the Christmas tree. Now, cut the colored felt pieces in circular shape and use them to decorate your Christmas tree costume with garland and ornaments.
Elf
Another costume party idea is to dress up as an elf. You can use footed pajamas or red thermal and a little bit of felt for the purpose. A yard of green felt can be purchased from any of your local fabric stores or a craft store. Cut a basic zigzag kind of trim so that it can either be sewn, stapled or glued to your red dress at the ankles, wrists and waist positions. You can also make an elf hat. First, measure your head's circumference. Cut a triangular piece with the length of two sides same as that of your head's circumference. Roll the fabric in such a way that the two of the sides of the triangle meet. You can staple, glue or sew them together to create a hat.
Elf Costumes
Who can forget BUDDY the elf? If you don't know buddy then pick a night and watch the film ELF with your kids! After that get the costume kit in for Christmas.
If you want a well described project that you can do for the kids then this video shows how to make elf costumes in a very esy to follow way.
Christmas Present
Dressing up like a Christmas present is another great costume idea that you can consider. Get hold of a box big enough to cover your torso completely. Gift wrap the box like you would do for your Christmas presents. Use a box cutter, a pair of scissors or any other utility knife, cut a hole on the top surface to pop your head out, a hole on the bottom surface to slide the box over your head, and two holes on the sides for you to put your arms out. To keep the holes covered, you can tape wrapping paper. You can add bows as well as other items used for trimming gifts as needed.
Christmas Present Costume on Pinterest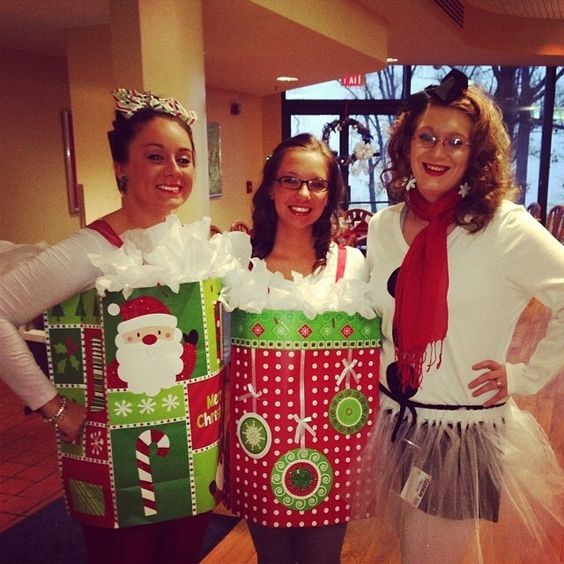 Disclaimer- we link to products in the Amazon website and if you buy something we might just make some pocket money to help keep us going just to let you know. Merry Christmas!