3 minutes reading time
(526 words)
Apple Tv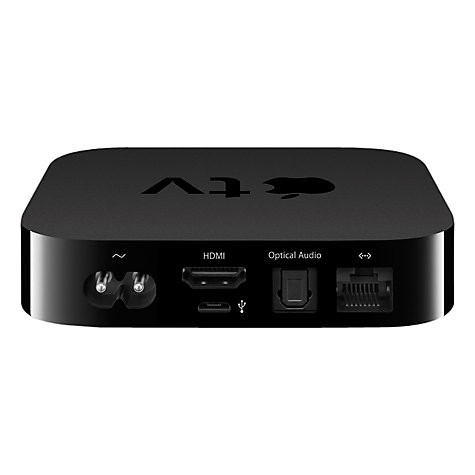 So yes, we finally spent those 100 euros and got ourselves an Apple TV! We are so happy we did it. It had been the perfect investment we did during the year 2013. When you read this article, you will see why.
First of all, Apple TV is just a small black box (does not occupy any space at all!) which connects to your regular TV. This black box creates wonders only in the presence of Internet connection. So yes, in order to be able to benefit from an Apple TV and the many channels in offers, you definitely need to have a high speed Internet connection. The set-up process of Apple TV is very easy. I won't go over all these details here, just follow what's written inside the user manual and you will be fine. What I will tell you in this article is what you can do with your Apple TV.
First of all, the greatest advantage of having an Apple TV is the ability to be able to watch newly released films with high resolution. You do not need to go to the movie center, you do not need to rent or buy a dvd at a high price. These movies which come with Apple TV cost maximum 6 euros. All you need to do is to buy or rent the movie on Apple TV whenever you want and enjoy your movie night at the comfort of your house. Let me tell you about the differences between buying a film and renting a film on Apple TV. Once you rent a movie on Apple TV, you can start watching it anytime you want within a month. However, once you start watching it, you will only have 48 hours to finish the movie. If you prefer to buy a movie, you can watch and re-watch the movie at any time you want.
In addition to movie rentals and purchases, Apple TV also features a variety of channels. You can get connected to radio stations and start listening to music from the 60s or 70s. There are numerous podcasts which you can subscribe to and listen. There is also a Japanese anime channel (named Crunchyroll) which allows anime enthusiasts to watch their favorite cartoons in original Japanese language with English subtitles.
Basically, if you have any other apple products like ipad, iphone, imac or macbook at your home, you can easily connect these devices with your Apple TV and have access to whatever you need on your big TV screen. For example, you can easily connect to your iTunes library of your computer via Apple TV and start listening to your favorite music or watching TV series on your TV screen. You can also turn your TV into a big projection screen. By simply connecting your PC or your laptop, you can make presentations to your home audience. While you click and type on your computer, your audience can see everything on a bigger screen.
I strongly recommend everyone to buy an Apple TV. It costs a little bit but the home-cinema environment it creates in the house is definitely worth the price.
Comments
No comments made yet. Be the first to submit a comment
By accepting you will be accessing a service provided by a third-party external to https://style-review.com/