These belts are consistently being bought and worn by runners. WHY? They help keep things comfortable such as removing keys and mobile phones from pockets is the main advantage. Running can get hard and pockets are much better left empty.
Technologies such as bluetooth are helping to make my body feel free (free motion- no wires or earbuds almost droppign out!). These utility belts or wraps such as the bodbud ™ and the ivim shown here also are a revolution in sports wear. We need our devices and until they get smaller pockets are required. There is no better place for these devices and your personal items. Stored securely.
The Best Running Belts in Review
Lets take a look at 3 of the best and why they are.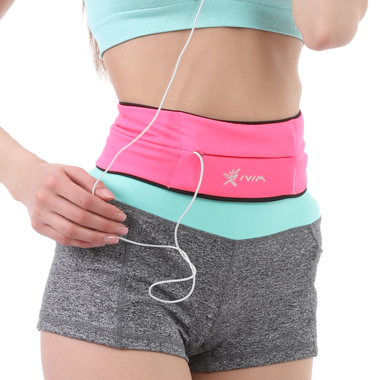 Advantages
This is a very stylish belt and low cost compared to most it is also of high quality. OEM (non branded) belts out there on ebay are not usually as good as this and the price is the same considering postage so this is a reason to buy.
Disadvantages
Uses a lockable zip to join the belt which while it works is great however if it fails will render the belt useless.
Buy in confidence on Amazon. USA
Advantages
Adjustable
Elegant Design
Zipped Compartment
Disadvantages
Velcro Adjustment limits lengevity
The ESR belt adresses one of the main concerns with running belts which is the sizing. This type of product needs to fit well otherwise 2 issues arise. If the belts are to tight they tend to rise up and if they are too loose then you get a small movement every step that is annoying when you need it least. This belt has 3 sizes and adjustability. People reviewing have said that the size chart is not great and you need to err on the side of a larger size if you are on the limit.
"The only problem I had is it kept riding up and was distracting & uncomfortable while running."
vs
"

It is very convenient when you go running and put your keys your phone even your headphones and I love using it at the gym as well it's easy to carry the only downside to it is because when you're working out with that you're sweating so the whole band gets really sweaty so just probably wash it twice a week depending on how many times you work out.

"

Read all reviews
The ESR belt also has all the features you find in the best of these versions. Headphone exit hole, zippered compartments and an elegant simple design. The simple elegance of all these belts is vs the 'fanny pack' or 'bum bag' no matter what size you fit them the front or rear where you place the storage part starts slapping you! RUDE. These fitness belts are way better for the backpacker and runner. Yes backpackers will find these kind of products very useful.
If there is a downside to the ESR is that the velcro will start to fail but that wouldn't put me off. I don't expect this to last years all of the belts here will struggle beyond a point. If the belt has a zip to join the belt if those zips fail the belt is useless. The esr is an attractive proposition.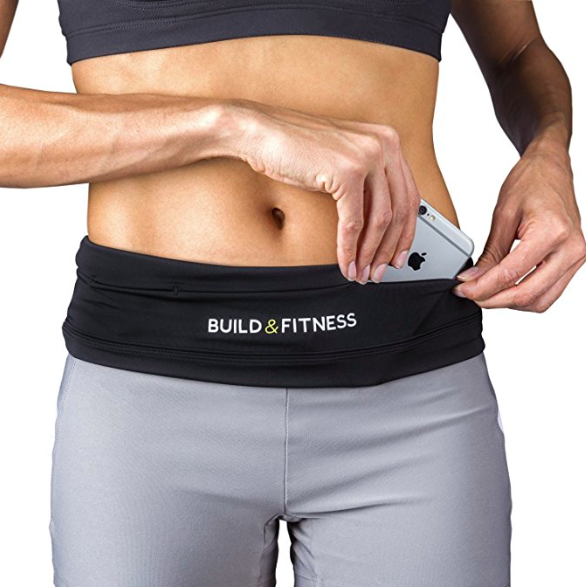 Buy in confidence on Amazon >>
There are a couple of varieties of belts a looping version and a buckle adjustable version. The looping version like many has the inherent issues with sizing. You need to get the right size for this product. They knew this so have the version we are looking at now. The buckle hybrid.
I call this a hybrid as it combines the thin elastic tube style element with a fanny pack style adjustability.
Advantages
Buckle Adjustability.
Key clip.
Zipped pocket.
Being able to take these belts off quickly after a run via the buckle is a major plus.
Disadvantages
The buckle makes this slightly less comfortable in one small way.
A more expensive product it's debatable as to if it is any better than the ESR belt.
Buy now from Amazon >> if you want the best running belt.