Mens Addidas Adizero Blue Trainers
Hot

editor
June 06, 2015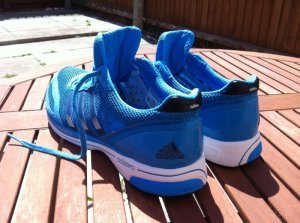 I got some new trainers time to retire the old ones.
Features:
Continental logo on sole - Rubber outsole for enhanced performance on ANY terrain.
Tirrenina - An effort at a greener world so this manufacture process for new materials should be applauded.

The trainers are light but I find myself needing a bigger size than in other trainers so be careful ordering online. I would err on the larger size.
The trainers have a certain shape to them I think its to reduce weight and needless material actually.
Editor review
I will need to get used to the shape a bit - I am a bit of a traditionalist and trainers have had a different shape for me in the past sculpted bridge or soles with excessive heels taper etc.
The team IMO have taken away the excess material as it adds weight. They have innovated with adiprene for the soles and used unique materials that save on solvents and are more green. That's good I guess they are still made in tough conditions abroad - until governments in those companies change the market for low cost production is open. And we demand more for less (change that if you can - ask yourself can I pay more don't always go cheapest !)
Ok back to the trainers - I love the blue shade and from up high the pattern comes alive in the top surface. I like that and I will grow to like these trainers. They will get asked to work hard over miles and miles of running and now a bit more gym work.
I have already tested them on calf raises which is always a killer test - fancy shaped soles are problematic here but these had good safe grip on the edge where all your body weight plus machine rests on a line across the soles. So they performed well and I think they are also a good gym show with ample support.
They were as you expect good for running - but I am yet to try the very best in running shoe to compare.
So if you can find these at a good price and you like them don't hesitate to pul the trigger.
Happy running.
Was this review helpful to you?
User reviews
There are no user reviews for this listing.