Carpet Industry is one of the oldest industries in India. Carpet Weaving was brought to India by Moguls. Some of the majestic carpets were woven during Mugals era. Over the period, the weaver has become an artist imbibing the magical exotic colors to the Indian carpets. Based on individualistic skill of the weaver, there is an aesthetic touch of the coloring and beauty in the carpets.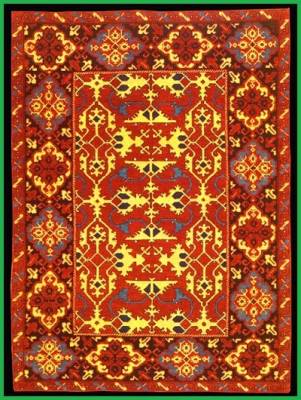 Over the period, various clusters have emerged in the northern part of India. Initially, carpet weaving was done only at few centers. Due to several historical reasons and availability of resources, carpet manufacturing spread across the northern India. Major centers have been Bhadohi, Agra, Jaipur& Kashmir. During the last few decades, hand-tufted carpets have emerged as one of the major categories. Due to proximity to Home furnishing products, Panipat has emerged as another major center for carpet manufacturing.
Types of Carpets:
There are various kinds of carpets available in India. These are as follows:
· Hand-knotted Woolen Carpets
· Tufted Woolen Carpets
· GABBE Woolen Carpets
· Handmade Woolen Dhurries
· Pure Silk Carpets
· Staple or Synthetic Carpets
· Chainstich Rugs
Each kind of carpets has its own tradition, design and significance catering to different needs of customers. They have developed unique competitiveness in the respective categories.
Major Carpet Producing Centers in India
Over the years, various carpets weaving center have emerged in India. Each center has its own competitive advantage. These centers employ millions of people. Major belts are Bhadohi – Mirzapur and Agra belt in Uttar Pradesh, Jaipur-Bikaner belt in Rajasthan, Panipat belt in Haryana and Kashmir belt.
Market Size and Segmentation
The carpets manufactured in India are mainly exported. There is a very small market for carpets in India. This is mainly because of the purchasing power of local players.
There are two kinds of designs available in carpets: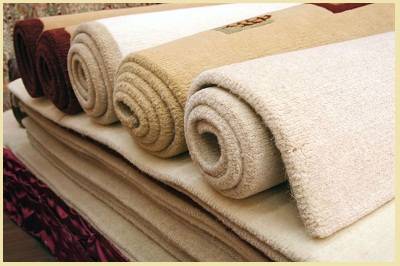 · Traditional.
· Modern.
Modern designs are popular among youths while traditional designs are popular among elderly people. The preference is not solely determined by age. Geographical location is also important determinant. Traditional designs are popular in southern European market while modern design in northern European countries. There is no such differentiation in US market.
Carpet industry's major products are hand-knotted and hand tufted carpets. Hand-tufted carpet market is growing rapidly. Some of industry players believe that market is being shifted from hand-knotted segment to hand-tufted segment. However many players believe that both products are targeted at different markets. Additionally, hand-tufted carpets have already entered in to home-furnishing segment.
Present & Future Growth Drivers of the Industry
Low – End Carpets: Low end carpets like hand-tufted carpets are currently driving the growth of industry. These carpets have expanded the market as they are cheaper and affordable for many consumer segments. These segments are going to drive future growth for a considerable time.
Modern Designs: As in the case of low end carpets, modern designs are expanding the market. Modern design is attracting young consumers. Also, there are a significant number of consumers who prefer modern designs compared to traditional designs. These are prominent in countries like Germany, Scandinavia, etc.
New Markets: Traditionally, carpets industry is dominated by buyers from USA & Germany. However, new markets are emerging for carpets and they are growing fast. These are basically developing countries or lesser developed countries like Spain, etc. Growth in income level is the major driver for this.
Big Retailers: Big retailers like Wal-Mart, Ikea can drive the growth in the carpet industry. These players have huge network with a large customer base. Low-end carpets can be a major product that can be targeted by these players.
Cost Management: In Today's competitive market, price has become an important factor. Hence, better price can be offered through better costs management. Effective costs management will always be a competitive advantage to any player. The trend is common in every industry. Carpet industry is no exception. Better cost management will reduce the price which can lead to increase in volume sales.
It can be said that the carpet industry is presently going through a major change. Traditional markets are saturated while new markets are officering opportunities for growth. Modern designs and low end carpets like Hand-tufted carpets are attracting new customer base. However, the total sales in the carpet industry have been stagnant in terms of value. Hence, traditional model of carpet business is no longer relevant. There is no single kind of customer; market can easily be segmented now.