If you're feeling the need to exercise your mind and meet new people all at the same time, then perhaps a game of Bridge should be in your future activities. Bridge has recently enjoyed a renaissance amongst young professionals, empty nesters, and seniors who can improve their mental capabilities with each and every new game. You don't have to be an expert to enjoy the game, you can learn quickly, and it's an excellent way to meet new people with the same interest as you. Whether you're on a cruise ship, playing on the Internet, or participating in an organised tournament in your area, Bridge is a game that provides you with the means of making new friends wherever you go.
The Benefits of Playing Bridge
As you begin to learn more about the game and participate in Bridge, you'll find that there are benefits that are a direct result of your engagement in play. Some of those benefits are:
$1· Improved communication skills
$1· Learning the "language" of the game
$1· The making of new friends
$1· Intellectual stimulation
$1· Memory recall enhancement
$1· Multi-tasking
Enjoying a game of Bridge will allow you to keep your mind nimble and quick and multi-task effectively to win more points than your opponents.
Play like a Professional
Even though you may not yet possess the skills of a professional Bridge Player, you can still impress your opponents and entertain your guests if you have the right tools for an exciting game. From the card table that you use to the playing cards and score pads, you'll want to have quality materials that have been designed specifically for an exhilarating game of Bridge.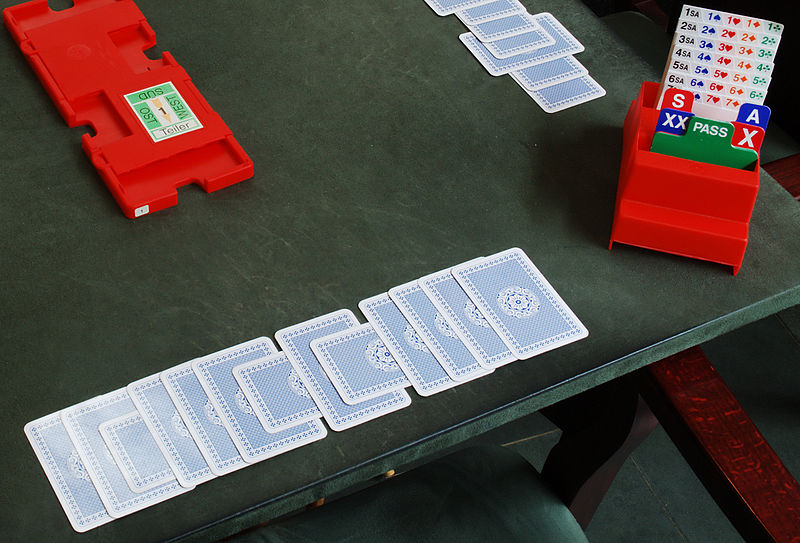 Quality Bridge accessories enhance your play and impress your opponents. Image attributed to Wikimedia KoeppiK
You can invest in an automatic card shuffler, bidding boxes, and pens that carry the theme of your game right down to the score-keeping. When holidays, birthdays, and anniversaries arrive, a Bridge player would love a boxed gift set that has all of the necessities in one convenient place. If you'd like embroidered cloths, cardholders, or pad blocks to use around your home, a reputable company will have those items in stock and at affordable prices for your Bridge budget.
Prepare with the Help of a Reputable Company
As you begin to prepare for an evening of Bridge with your friends and family, you'll want to begin ahead of time and purchase quality Bridge accessories that enhance score-keeping and professional-type competition. It's best to save time and money by locating a reputable online company that can meet and exceed your needs, deliver the products right to your doorstep, and value your privacy by maintaining complete control of your sensitive information. You should find a site that is easy to navigate, has a wide variety of premium products, and is committed to excellent customer service. Playing Bridge has many benefits, and working with a company that can deliver what you need for exciting play quickly and affordably can get you in the game as soon as possible.
The challenges and pleasures of the game of Bridge can be yours; it's as easy as ordering your materials online, waiting for their arrival, inviting friends over, and enjoying the excitement of a new game.