Myanmar, formerly known as Burma, is full of beautiful and diverse natural landscapes to enjoy. Because it has only recently been opened up to visitors, this Southeast Asian paradise is largely untouched by tourism. Traveling here, you can experience a tranquil getaway almost impossible to find elsewhere.
Although there are several pristine beaches with white sand and almost impossibly clear water to choose from, the best to pick for a pampered stay is Ngapali Beach. Not only is it easy to get to from other cities in Myanmar, it also offers the best luxury resorts that the country has to offer.
Amazing Ngapali Resort
An amazing retreat indeed, not only is this hotel located right on the most gorgeous beach in Myanmar, so are all the rooms. Actually, room is not the correct word. There are no guestrooms here… only private villas, each with its own seaside terrace and Ngapali awaiting you just paces away.
All the villas combine traditional decor with all the modern amenities. The Beach Front Suite Villa also has a sun lounge and the Amazing Suite Beach Front Villa, well worth splashing out for, is… well… amazing. It's two stories and includes an open sea view Jacuzzi, an outdoor private shower (in addition to the one inside) and kitchen facilities for those who can't be bothered leaving to dine in the delicious onsite restaurant.
Resort amenities include a restaurant, bar, outdoor swimming pool, billiards and volleyball. Bicycles, fishing boats and golf clubs are also available and you will be close to the local course. There's also a spa so when you're tired out from all that relaxation, a yummy massage awaits you. While you may not want to leave the resort (ever), shuttle bus service is available to the nearby towns.
Ngapali Bay Villas and Spa
Another all villas property, there are a total of 36 here, each with floor to ceiling windows offering panoramics view of the beach and bay. The design includes use of native materials such as teak, sandstone and white marble. The resort prides itself on the care that has been put into the selection of local paintings and antiques to add to the ambiance throughout.

Traditional accents are combined with modern amenities to offer you a sanctuary that will stay with you long after you leave. Among the various options in villas, some have their own pavilions with reclining chairs located right on the beach front while others have private plunge pools.
There are a number of activities that can be enjoyed nearby including snorkeling, boating, hiking and bicycling. Onsite services include an oceanfront restaurant where you can sit on an open-air terrace and enjoy the catch of the day as well as a poolside bar. The spa offers a variety of body scrubs, facials and massages and uses organic raw materials as well as products from a leading essential oil producer in Switzerland.
Sandoway Resort
With 57 cottages and villas over a sprawling 6 acres of beachfront property and gardens, this resort was designed to be someplace that will make you forget the rest of the world exists. You'll feel like you have your own vacation home on one of the most beautiful and tranquil beaches in the world.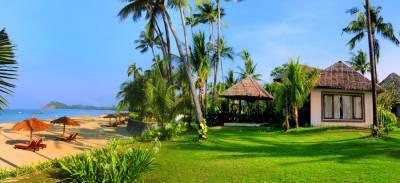 The villas, with either beach front or sea views, offer the ultimate in privacy and include private verandahs and upper lofts with picture windows allowing you to enjoy the view to the utmost. Cottages and deluxe rooms all have a two story design with the ground floor being the living area and the upper the bedroom, as well as their own verandahs. Teak and marble are used in all construction, providing an interior as beautiful as the white sands outside your door.
The facilities of this idyllic resort are hard to beat and include a spa, swimming pool, library, and cinema. The restaurant features international cuisine, with a specialty of the house being freshly caught seafood. Chefs are invited from Europe throughout the high season to ensure that there's always something exciting on the menu.
---
Originally from the US, Maureen Santucci now calls the ancient Peruvian capital of Cusco home, where she has lived for 5 years, working as a travel consultant as well as writing for Fodors Travel Guide and a variety of online travel sites.