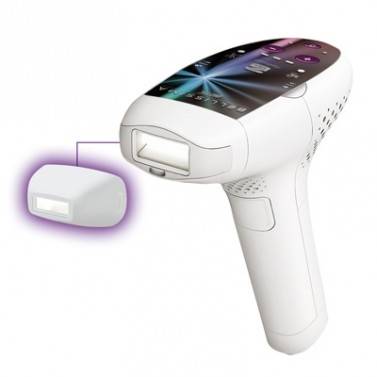 In this post I'd like to talk about two innovative items which I found out during my last visit to Comet, the electronics shop located in Verona. I have to say that I just could not believe my eyes the following technologies really existed. They look amazing and very promising. That's why I decided to share these extraordinary items with you on this post.
The first product is an item which I think every woman had dreamt of for a long time. The name of the product is Flash&Go Plus. Basically, it's an intense pulsed light epilator produced by Imetec (I also saw that Rowenta has a product similar to this). As the name suggests, this little device provides permanent epilation solutions. Although the target group of this device is mainly the women this device can also be used by men who want to get rid of the excess hair they carry on their bodies. This product has been approved by FDA and it has 5 levels of light intensity which allows you to choose the best option for your skin color. On the product cover it is written that the users have permanent hair reduction up to 90% after continuous treatment with this device. Just amazing, isn't it?
The second product is another awesome item which actually concerns women and men above a certain age. It is a cordless product which can be used anywhere at anytime and which improves the appearance of your skin by reducing wrinkles, blemishes and skin pores. Basically this little device helps you fight against aging. The name of the product is Bellissima Face FX (the word "bellissima" means very beautiful in Italian) and as written above, it is a device which is developed for improving the skin texture for a younger appearance. The product combines phototherapy and infrared heating in order to "stimulate cellular activity and increase natural collagen and elastin production". According to the information found on the website, Face FX has been self evaluated by 80 women and 20 men and the results are as follows: 91% reported skin texture improvement, 69% reported reduction in wrinkles and fine lines, 47% reported reduction in skin blemishes and 78% reported reduction in pore dimensions. It is suggested to use Face FX 3 times a week for twenty minutes for the first four weeks. For lasting effects, Face FX can be used once a week.
It's amazing how advanced technology can help improve ourselves in ways we could have never imagined before. Products like Flash&Go Plus and Bellissima Face FX help us reduce the time and money we spend at beauty parlors. Well, of course these devices cost a few hundred euros, but if you look at it from a wider perspective, you will see that they are one time investments from which you will reap great benefits.
You can find more information about Flash&Go Plus and Bellissima Face FX by visiting Imetec webpage at http://www.imetec.it/website/index.php/en/products/subcat/105 On the webpage there are also some educational videos which will help you use these products in the most efficient way.